Omkara
(2006)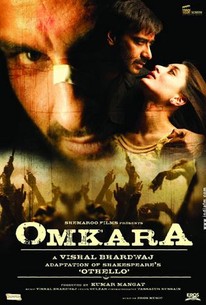 AUDIENCE SCORE
Critic Consensus: No consensus yet.
Movie Info
"Omkara" is set against the milieu of political warfare in the interiors of Uttar Pradesh. Omi is a gifted chieftain who heads a gang of outlaws, which include the crafty Langda Tyagi and the dynamic Kesu amongst his chief cohorts. The story begins when Omi appoints Kesu and not Langda as his chief lieutenant. Langda's pride is slighted and raging with envy he hatches a plot to falsely implicate Omi's beautiful wife Dolly, in a love affair with Omi's favorite lieutenant, Kesu. With the unwitting aid of Indu, Langda's wife, and the willing help of Rajju, a fellow grouch, Langda's plan blooms uncontrollably and results in horrific tragedy. Using petty insinuations and lies, Langda keeps poisoning Omi's mind till one day it snaps and Omi goes about tearing up his own safe and secure world... But like all love stories which never really end. Out of the ashes of this one, comes a twist... Omkara's dark love for Dolly, Dolly's unquestioning love for Omi, Langda's warped loyalty and jealousy for Omi, the vibrant Kesu's unswerving devotion to Omi - all lead up to a dark tragedy by the end of which Omi finally realizes the backlash of his actions but is it too late?
Audience Reviews for Omkara
An interesting take on Shakespeare's 'Othello'. Great cast! Interesting story plots.
Omkara Quotes
There are no approved quotes yet for this movie.