On Again---Off Again
(1937)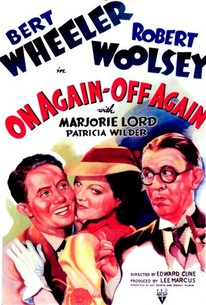 AUDIENCE SCORE
Critic Consensus: No consensus yet.
On Again---Off Again Photos
Movie Info
The comedy team of Bert Wheeler and Robert Woolsey are atypically cast as bickering "friendly enemies" in On Again-Off Again. Based on the old stage farce A Pair of Sixes (previously filmed in 1930 as Queen High), the film stars the comedians as Hobbs and Horton, co-owners of a profitable pill manufacturing concern. Forever at each other's throats, the partners are in danger of losing their business thanks to their incessant squabbling. In desperation, their attorney George Dilwig (Russell Hicks) suggests that Hobbs and Horton solve everything with a wrestling match: the loser must agree to become the valet of the winner for a period of one year -- and must also pay a hundred-dollar fine every time he refuses to do the winner's bidding. By a fluke, Horton wins the match, whereupon Hobbs is compelled to wait on him hand and foot. Humiliated, Hobbs refuses to tell his fiancee Florence (Marjorie Lord) about the arrangement and ships her off to Florida, whereupon Horton, hoping to force Hobbs to break the agreement and thus forfeit his share of the business, spreads rumors that Hobbs is fooling around with Mrs. Horton (Esther Muir), then invites Florence to a party at his mansion. Hobbs gets even by dismissing all the servants and hiring a passel of low-lifes (Patricia Wilder, Pat Flaherty et.al.) as temporary help. The feud comes to a head when crooked salesman Toler (George Meeker) tries to convince both Horton and Hobbs to invest in a questionable business scheme, leading to a nocturnal slapstick chase through the Horton estate. Never before had Wheeler and Woolsey been involved in so complicated a plotline; indeed, both comedians seem positively winded at the end of the film. Despite all that's going on, there's still time for a couple of engaging musical numbers, including the ironic opener "One Happy Family" and Bert Wheeler's re-creation of his classic "crying while eating" vaudeville routine. Opinions are divided on On Again-Off Again: Some fans consider it the worst of Wheeler and Woolsey's features, while others regard it as a welcome step up from their previous mediocrities Silly Billies and Mummy's Boys.
Critic Reviews for On Again---Off Again
There are no critic reviews yet for On Again---Off Again. Keep checking Rotten Tomatoes for updates!
Audience Reviews
There are no featured reviews for On Again---Off Again at this time.
On Again---Off Again Quotes
There are no approved quotes yet for this movie.