On an Island with You
(1948)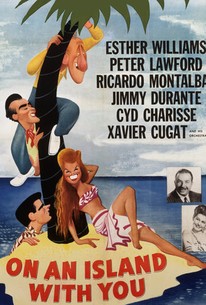 AUDIENCE SCORE
Critic Consensus: No consensus yet.
On an Island with You Photos
Movie Info
The title of this MGM musical alone should tip you to the fact that Esther Williams is the star. In this one, she plays a movie star (what an innovation!), Rosalind Reynolds, who is on location in Hawaii to shoot a picture. Peter Lawford plays the film's naval technical advisor, Lt. Lawrence Y. Kingslee, who naturally falls deeply in love with Rosalind. As a means of expressing his ardor, Kingslee genteelly kidnaps Rosalind by "accidentally" marooning her on a desert island. To the dismay of feminists everywhere, Rosalind comes to enjoy being Kingslee's prisoner, and all ends happily. Jimmy Durante breaks up da joint in the role of an assistant director, while music is provided by MGM's all-purpose bandleader Xavier Cugat. The Technicolor process is shown to supreme advantage whenever it concentrates on Esther Williams' form-fitting gold-colored swimsuit. On an Island with You was one of MGM's premiere moneymakers of 1948.
News & Interviews for On an Island with You
Critic Reviews for On an Island with You
Audience Reviews for On an Island with You
½
i never even heard of this one before (although i have seen clips previously) and, typical of mgm musicals, it's chock full of misspent talent, talent overflowing, a veritable pool of talent (i make myself laff!). ricardo montalban is incredible, dancing with cyd charisse and swimming with esther flawlessly, the unexpected performance of a lifetime. jimmy durante is in-your-face with making you respect vaudeville, no small feat, and respect it you do after he is done. cyd charisse...is simply timeless perfection of dance. maestro xavier cugat ain't about to be outdone by anybody, and, in such talented company, even peter lawford dutifully turns in a decent showing. all this firepower and for a trifle, a cinnamon roll! zowie! and then, of course, rising from beneath the waves, her arms outstretched, her face beaming a smile as if she were glad to see us home, all of us, sweet mother of god, beaming, is esther herself!
Kevin M. Williams
Super Reviewer
On an Island with You Quotes
There are no approved quotes yet for this movie.