On Approval
(1945)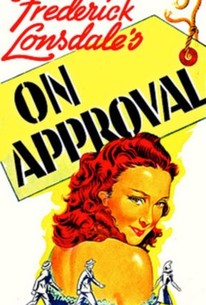 Movie Info
English actor Clive Brook's only directorial effort, On Approval, is based upon Frederick Lonsdale's frothy 1926 play, though reset in the late 19th century. Brook plays George, a titled duke whose wealth has largely been spent but who has no intention of settling further into genteel poverty. George is enormously appealing to Helen (played by Googie Withers), a good-natured American heiress, and is equally appalling to Maria (Bea Lillie), an Englishwoman of considerable means. The imperious Maria is dating the eternally devoted Richard (Roland Culver), who worships her. Maria decides that she will marry Richard -- after he spends a month with her in a secluded Scottish castle, where she will try him out "on approval." Maria, however, does not intend to discover whether they are suitable for all aspects of marriage; every night he is to row across the loch and spend his nights at a local inn. Neither Maria nor Richard will lack for company, though, as George and Helen invite themselves along. Things get complicated when it turns out that there are no rooms available at the inn, leaving the men to share the castle with the women -- a prospect that so horrifies the servants that they promptly leave the two couples high and dry. Left to their own devices, the foursome get to know each other -- and they don't necessarily like what they find.
Critic Reviews for On Approval
Audience Reviews for On Approval
½
Somewhat funny and somewhat boring, that's what I remember feeling towards this movie, but I can't seem to remember the story at the moment, and Flixster doesn't have it either. I'll watch it again sometime.
On Approval Quotes
There are no approved quotes yet for this movie.