On Chesil Beach
(2018)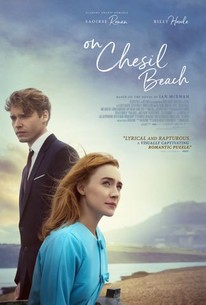 TOMATOMETER
AUDIENCE SCORE
Critic Consensus: On Chesil Beach presents a well-acted and solidly crafted adaptation of a small yet resonant story with deceptively rich subtext.
Movie Info
Adapted by Ian McEwan from his bestselling novel, the drama centers on a young couple of drastically different backgrounds in the summer of 1962. Following the pair through their idyllic courtship, the film explores sex and the societal pressure that can accompany physical intimacy, leading to an awkward and fateful wedding night. The film stars Saoirse Ronan, Billy Howle, Anne-Marie Duff, Adrian Scarborough, Emily Watson, and Samuel West.
News & Interviews for On Chesil Beach
Critic Reviews for On Chesil Beach
Audience Reviews for On Chesil Beach
Although it is easy to become frustrated by the characters' immaturity, especially as we get deeper into the nature of their decisions, there is no denying how the remarkable complexity of their feelings drives everything we see here into a first-rate portrait of sexual frigidity.
Carlos Magalhães
Super Reviewer
Blow me over and spank me surprised, but I guess watching stuffy British people in the 1960's deal with their sexual fragility makes for a fairly underwhelming cinematic experience. Saoirse Ronan is on top of the A-list after all of the Oscar buzz surrounding Brooklyn and Lady Bird. I'm assuming she told her agent, "find me more roles where I wear pretty dresses and have an accent." So if you're searching for some Soairse, 'Pon hmChezil Behch 'rather (one of the most British sounding film titles ever) might just be your spot of tea. However, if you tire of taciturn ennui like me, you may defer to the malodorous Tulip Fever for at least a few fragrant gaffes and flagrant laughs amidst your period-set anti-romance movie. I think Ronan and her male costar Billy Howle are at least giving this melodrama some genuine effort, and on a baseline technical level, there are some really good shots and production design. Past that, to constantly stop the centerpiece scene with out of order flashbacks, then flashbacks within flashbacks, then several flash-forwards probably looked fine on paper, but here it is structurally unsound and betrays the pacing of the film. Not only does it undercut the narrative flow, but it makes every interaction in this pivotal breaking point of a couple's relationship look even more simultaneously boring, perplexing, and laughable. Then there's the third act. Good lord, the poor frigid pooch is screwed to death here with a heavy-handed callback to a throwaway scene from earlier in the film. This might not be so bad if they hadn't done it with everybody in aged prosthesis. I don't know how this might have looked in the theater, but on Blu-ray it looks like ass, like crusty band-aids on the caked foundation of several squished together flabby asses. So all of these flashbacks that are haphazardly establishing some sort of build up to the horn dog and the prude getting rude with each other pay off in one of the corniest, most impotent fashions. Oh well, at least Howle's character got a climax before this feckless affair ended.
K Nife Churchkey
Super Reviewer
I've always maintained that the things I admire most about movies is their constant ability to surprise me by telling a similar story in a different way. On Chesil Beach is one of those movies that presents a common story, a couple going through marital issues, but in a strikingly bold manner. Not only does the film make some brilliant choices narratively, but its performances and direction come from a refreshingly honest take. Never once did I believe this was a movie couple going through the motions as two actors acting out written sequences. This felt like a real life story being told through flashbacks and a bare bones script. I've never quite seen a film present such a detailed look at first love and first sexual encounter in the way "On Chesil Beach" does. The results are both touching and devastating. I love the way Dominic Cooke slowly but surely presents their "first night" with interlocking flashbacks to flesh out why these people are acting the way they do. On some levels, it's an awkward watch, but others it's an eye opening reminder about the reasons relationships begin and end & vice versa. Released quietly in theaters, it won't likely draw a ton of Oscar buzz, but there are a few scenes that I soon won't forget, in what could be the most earnest romantic film of 2018. 8.6/10
Thomas Drufke
Super Reviewer
On Chesil Beach Quotes
There are no approved quotes yet for this movie.