On the Road
(2012)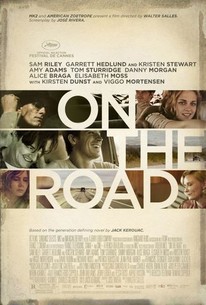 TOMATOMETER
AUDIENCE SCORE
Critic Consensus: Beautiful to look at but a bit too respectfully crafted, On the Road doesn't capture the energy and inspiration of Jack Kerouac's novel.
Movie Info
Based on Jack Kerouc's beloved American novel, On The Road is the story of Sal Paradise, an aspiring New York writer, and Dean Moriarty, a devastatingly charming ex-con, married to the very liberated and seductive Marylou. Sal and Dean bond instantly instantly upon meeting. Determined not to get locked in to a constricted life, the two friends cut their ties and take to the road with Marylou. Thirsting for freedom, the three young people head off in search of the world, of other encounters, and of themselves. -- (C) IFC
News & Interviews for On the Road
Critic Reviews for On the Road
Audience Reviews for On the Road
Salles follows closely the heartbeat and structure of the iconic novel to capture the wild spirit of the Beat Generation, to which he is more than faithful, and so this is an exciting collection of road anecdotes revolving around the friendship between Jack Kerouac and Neal Cassady.
Carlos Magalhães
Super Reviewer
Sal Paradise goes on the road with Dean Moriarty and company. This film is less than the sum of its parts. In his effort to get the feeling of the Beat Generation, director Walter Salles has some quick edits and some free-wheeling music and some of the lines lifted from Kerouac's novel - all cinematic tricks that should work, but yet there's still something staid about this film. Perhaps it's the gravelly voiced Garrett Hedlund, who seems more focused on the image of Sal than the character, or perhaps it's the hackneyed shoe-horn of a script. Or perhaps Kerouac was never meant to be adapted. Overall, it was worth a shot, but this is one book-to-film adaptation that missed the mark.
Jim Hunter
Super Reviewer
The best teacher is experience. Good movie! The cinematography is outstanding, and it is a sight to behold, beautiful landscapes, a smooth, delicate filmic texture. Overall, the film is light on plot. It's mostly character study and exposition. However, that's On the Road. The film is based on a Kerouac stream-of-consciousness novel. It's about his hero worship with Dean and the ultimate disillusionment he feels with him. The conflict and resolution isn't your typical climax and ending of a film. Shaken by the death of his father and discouraged by his stalled career, writer Sal Paradise goes on a road trip hoping for inspiration. While traveling, he is befriended by charismatic and fearless Dean Moriarty and Moriarty's free-spirited and seductive young wife, Marylou. Traveling across the American southwest together, they strive to break from conformity and and search the unknown, and their decisions change the very course of their lives.
On the Road Quotes
| | |
| --- | --- |
| Old Bull Lee/William S. Burroughs: | Dean does not feel responsibility towards others. He does not know the concept. Then again, he feels others have some mysterious obligation to support him. |
| | |
| --- | --- |
| Old Bull Lee/William S. Burroughs: | Dean does not feel responsibility towards others. He does not know the concept. Then again, he feels others have some mysterious obligation to support him. |
| | |
| --- | --- |
| Sal Paradise/Jack Kerouac: | We were performing our one and noble action of the time- move. |
| | |
| --- | --- |
| Sal Paradise/Jack Kerouac: | ...the only people for me are the mad ones, the ones who are mad to live, mad to talk, mad to be saved, desirous of everything at the same time, the ones that never yawn or say a commonplace thing, but burn, burn, burn like fabulous yellow roman candles... |
| Sal Paradise/Jack Kerouac: | The only people for me are the mad ones, the ones who are mad to live, mad to talk, mad to be saved, desirous of everything at the same time. The ones that never yawn or say a commonplace thing, but burn, burn, burn like fabulous yellow roman candles. |