Once Bitten
(1985)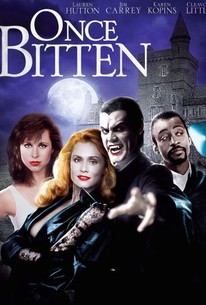 Movie Info
Best remembered for containing the film debut of phenomenally popular comedian of the early '90s, Jim Carrey, Once Bitten is a horror comedy that chronicles the attempts of a bloodthirsty female vampire living in modern day Los Angeles to find the three male virgins she needs every year to stay alive and young-looking. If she cannot do it by Halloween, she will surely die.
Critic Reviews for Once Bitten
Audience Reviews for Once Bitten
Throughout the 80's there have been numerous vampire films that have made their mark on the genre. Once Bitten is a vampire film that seems to be forgotten among the more popular vamp flicks of the 80's. Jim Carrey's first film is a fun, entertaining comedy horror film that deserves to be rediscovered by genre fans. The film isn't a standout affair compared to Fright Night or The Lost Boys, but it's still a good little film for what it is. The cast are good in their parts, and there's enough effective material to make this a must watch for vampire film fans. The film has plenty of potential of being a standout vamp flick, but it does come up short in a few parts. Nonetheless, this is a far better film than what everyone has claimed it to be. The film isn't perfect, but it definitely doesn't deserve all the flack it received upon initial release. For what it is, Once Bitten is a mindless, entertaining vampire comedy that is a surprisingly effective film despite its limitations. Jim Carrey here is enjoyable and it is among his best films. The blends of comedy and horror work well, and the film is enjoyable enough for you to forget its flaws. This is an overlooked gem that deserves to be rediscovered by genre fans. The film is entertaining and lots of fun, and it's another good vamp flick from the 80's. If you love vampire films, Once Bitten is a different take on the genre, but one that satisfies if you're in the right mood.
One Jim Carreys first films and its a pretty fun little vamp film with lots of nice moments and a very sexy Lauren Hutton :) The plot is extremely simple and kinda like a vampire version of 'Teenwolf' with all the teenage boy angst and virgin issues but that's what makes the film fun I guess. The whole sexual undercurrent with Hutton trying to 'have' Carrey is good fun in a kooky kind of way but also you can't help but wish Lauren Hutton would do the same to you haha its childish but naughty at the same time. Carrey is good in this too I might add and clearly shows some of megastar talent that was on the way, alittle impression of Robert De Niro midway through is really good plus we see some rubber face antics here and there. Cleavon Little's performance in this is fun too as a gay/camp servant to his vamp Mistress, probably the best character in the film. Its all fun and silly but not as good as 'Teenwolf'.
Phil Hubbs
Super Reviewer
A funny teen comedy about vampires, it's not great, in fact it's pretty cheesy, but I really enjoyed it, it's fun.
Once Bitten Quotes
There are no approved quotes yet for this movie.