Once Upon a Crime
(1991)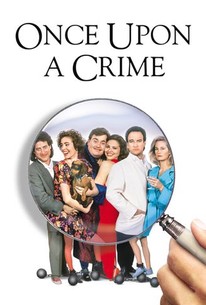 Movie Info
The murder of a millionaire has unexpectedly humorous results in this farcical comedy. When Phoebe (Sean Young) and Julian (Richard Lewis), two Americans on a tour of Europe, discover a lost dachshund, they learn that a $5,000 reward has been posted for the dog's return. Phoebe and Julian head to Monte Carlo to return the pet and claim the money, but they find that the dog's owner has been murdered -- and suddenly, they're suspects in the killing. As hapless detective Inspector Bonnard (Giancarlo Giannini) investigates the crime (imagining that the maid and butler must somehow be involved), he grills several other American tourists he believes are likely suspects, including gambling addict Augie Morosco (John Candy) and loud-mouthed suburbanites Neil and Marilyn Schwary (James Belushi and Cybil Shepherd). George Hamilton appears as an unusually opportunistic gigolo; former SCTV star Eugene Levy directed.
Critic Reviews for Once Upon a Crime
Audience Reviews for Once Upon a Crime
½
With an all-star cast that includes John Candy, James Belushi, Cybill Shepherd, Sean Young, and Richard Lewis, Once Upon a Crime is a farcical comedy that delivers some good laughs. The story follows a group of strangers in Monte Carlo that accidentally become involved in the murder of a wealthy widow. The plot is a bit thin, but the characters are interesting and the comedy keeps the film moving. However, by the end the characters have all been played out and the story becomes tiresome. While no one's at their best in Once Upon a Crime, it's still entertaining and fun (for the most part).
Dann Michalski
Super Reviewer
½
Embarrassing and unfunny.
Anthony Valletta
Super Reviewer
Once Upon a Crime Quotes
There are no approved quotes yet for this movie.