Once upon a Time
(1944)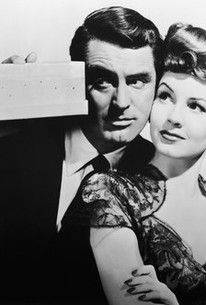 AUDIENCE SCORE
Critic Consensus: No consensus yet.
Movie Info
Based on Norman Corwin's satirical radio play My Client Curley, Once Upon a Time is an engaging bit of whimsy, completely dominated by the personality of star Cary Grant. It all begins when fly-by-night Broadway producer Jerry Flynn (Grant) learns of a trained caterpillar (!) that dances to the tune of "Yes, Sir, That's My Baby." In short order, Jerry has promoted Curly the Caterpillar to international stardom-and in the process he alienates both Pinky Thompson (Ted Donaldson), the impressionable 9-year-old who owns Curley, and Pinky's attractive older sister Jeanne (Janet Blair). Eventually, Flynn comes to his senses and regains his essential decency-though it's too late to continue capitalizing on Curley, who has turned into a non-dancing butterfly! Full of delightful contemporary references and "cameo appearances" by such celebrities as producer Walt Disney and radio commentator Gabriel Heatter (both played by uncredited impressionists), Once Upon a Time proved an agreeable diversion for wartime audiences.
Critic Reviews for Once upon a Time
All Critics (3) | Fresh (2) | Rotten (1) | DVD (2)
Although drawn too fine, it has moments of human interest and gives Mr. Grant a full role.
Why any creature, let along a caterpillar, would be able to find any rhythm in Pinky's spastic, asthmatic [harmonica] playing is beyond me.
Audience Reviews for Once upon a Time
½
This kind of reminded me of the dancing frog cartoon from looney tunes, but not as good, I mean it's a caterpillar for goodness sakes! That's just silly. The movie isn't bad otherwise, though, the actors are good, and the story could be really good if not for that silly caterpillar.
Deservedly obscure Cary Grant film, paper thin and borderline idiotic about a dancing caterpillar! The lead kid could not be more noxious and Grant gives, for him, a remarkably arch performance, mugging shamelessly often. He must have realized what a dog this was, forced to do it under contract and figured that over reacting and turning on the goo might save this dreck. Janet Blair is incredibly lovely but given very little to do.