Once Upon a Time in America
(1984)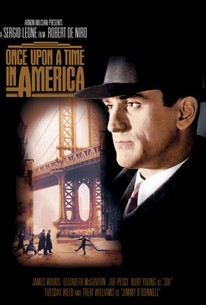 TOMATOMETER
AUDIENCE SCORE
Critic Consensus: Sergio Leone's epic crime drama is visually stunning, stylistically bold, and emotionally haunting, and filled with great performances from the likes of Robert De Niro and James Woods.
Once Upon a Time in America Photos
Movie Info
Though some viewers might be put off by its length, graphic violence, and absence of likable characters, Sergio Leone's final film is also a cinematic masterpiece. Spanning four decades, the film tells the story of David "Noodles" Aaronson (Robert De Niro) and his Jewish pals, chronicling their childhoods on New York's Lower East Side in the 1920s, through their gangster careers in the 1930s, and culminating in Noodles' 1968 return to New York from self-imposed exile, at which time he learns the truth about the fate of his friends and again confronts the nightmare of his past. The acting, the re-creation of the time period, the cinematography, and the music are all superb. However, even more important is Leone's ability to make the film work on so many different levels: it's both a criticism of gangster-film mythology and a continuation of the director's exploration of the issues of time and history. Strange as it may seem, the violence and gore in the first half of the film turn into a sad elegy about wasted lives and lost love. The film's strengths emerge only in its full 229-minute version -- the 139-minute and other edited versions don't make nearly the same impact. ~ Yuri German, Rovi
Critic Reviews for Once Upon a Time in America
Audience Reviews for Once Upon a Time in America
Available now in its four-hour director's cut, Leone's supreme masterpiece is a magnificent epic - superbly directed, full of fantastic performances and with a beautiful story of friendship and betrayal that culminates in a profoundly moving, achingly sad ending.
Carlos Magalhães
Super Reviewer
½
It's hard to judge this masterpiece when thinking about Coppola and Scorsese's more well known gangster flicks or even to compare it to Leone's earlier westerns. It's unlike any other of his films as far pacing, energy etc. On the other hand, it is a truly epic, amazing look at the life of two individuals. The detail and deepness to the story is great.
Graham Jones
Super Reviewer
"Once Upon a Time in America" is a stunning, lengthy, and novel-esque narration of three pivotal years (1922, 1933, and 1967) in the lives of two Jewish New York Gang members, Noodles and Max. The non-linear depiction of events, the brilliant imagery, the soundtrack, and amazing acting on behalf of Robert De Niro and James Woods make this film perfect, and it honestly defies categorization. "Once.." is not merely a gangster tale, but is more like a Dickens' novel in the vein of David Copperfield or Great Expectations. Every minute of its nearly 5 hours of duration is worth it, and one feels disappointed that the tale is told when the credits role. I could not possibly more highly rate a film, and I believe that it is as rewarding, entertaining, and fulfilling as any novel can be, and it should be elevated to a much higher regard. 89 percent simply doesn't cut it. 100 percent does. Find 5 hours during a dark night to ABSORB this masterpiece and don't you dare miss as single minute of it.
Colin Montgomery
Super Reviewer
Once Upon a Time in America Quotes
| | |
| --- | --- |
| Max: | Secretary Bailey: (checking his pocket watch) It's 10:25. And I've got nothing left to lose. When you've been betrayed by a friend, you hit back. Do it. |
| David "Noodles" Aaronson: | You see, Mr Secretary... I have a story also, a little simpler than yours. Many years ago, I had a friend, a dear friend. I turned him in to save his life, but he was killed. But he wanted it that way. It was a great friendship. But it went bad for him, and it went bad for me too. Good night, Mr Bailey. |
| David "Noodles" Aaronson: | I hope the investigation turns out to be nothing. It'd be a shame to see a lifetime of work go to waste. |
| | |
| --- | --- |
| David "Noodles" Aaronson: | Today they asked us to get rid of Joe, tomorrow they ask me to get rid of you. Is that okay with you? 'Cause it's not okay with me! |
| | |
| --- | --- |
| Deborah: | Age can wither me, Noodles. We're both getting old. All that we have left now are our memories. If you go to that party on Saturday night, you won't have those anymore. Tear up that invitation. |
| | |
| --- | --- |
| Sharkey: | You ever think of setting yourselves up in business? All those trucks used to haul liquor, soon be selling them for nothing. I'm talking about hundreds of vehicles controlled by a national organization. And supported by a powerful union headed by Jimmy. Whatever you ask, there's no way he can turn you down. |