Once Upon A Time In China II
(1992)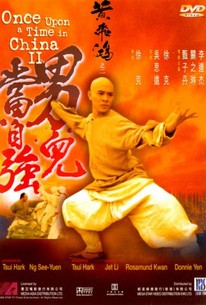 Movie Info
In this sequel to the acclaimed martial arts epic, Hong Kong superstar Jet Li stars as Wong Fei Hung, who becomes caught up in the chaos surrounding the collapse of the Ching Dynasty when he travels to Canton for a medical conference. Directed by Tsui Hark.
News & Interviews for Once Upon A Time In China II
Critic Reviews for Once Upon A Time In China II
Audience Reviews for Once Upon A Time In China II
Hark is back to take on the encroachment of foreigners. This time he focuses on a radical faction in China called the White Locust who want to see the death of all foreigners so their country can live in peace. Where as the message got a bit muddled in the first one, I think it is clearly and smartly driven home in this film. The civil wars that have sprung up due to Western imperialism wrecks havoc on the land, even when the rival faction may be driven by good intentions. They symbolism and the action is rich and are very captivating to watch. I'm surprised at how culturally different this film is for me, yet how involved I became with these characters. It has certainly changed my mind on Hong Kong cinema and the depth of this film is something to be enjoyed by all. It is hard to sum up my experience, and even though I fear I am doing a terrible job, I urge you to sit down with this series. It is certainly worth your time.
½
the epic story of master wong continues with a very strong middle piece to the trilogy. compared to the original, the fight scenes are a bit less memorable, the supporting characters not as good, and there are more failed attempts at humor. despite that, the story was almost as good as the original, and saying the fighting wasnt as good isnt a knock as the fighting in the original is some of the best ever and the fighting in this film is still great as compared to a lot of other kung fu movies. overall this is a solid sequel and a great stand alone kung fu movie in its own right.
½
Taking up where the first part left off, this is effectively more of the same ? which is no bad thing. Li and Rosamund Kwan return, but Yuen Biao elects not to reprise his role of Foon. His replacement Max Mok does a great job in the role. Most of the wire work action is left for the climax, giving Li a chance to demonstrate just how good he is at stylish (and FAST) kung fu earlier in the movie, when he takes on a mob intent on lynching his beloved 13th aunt armed only with a fan, and faces off against Donnie Yen in a great pole fight. As for the plot, this time us dopey westerners are the ones in danger, rather than being the outright villains. After a raid on an embassy, Wong Fei Hung decides enough is enough and takes on the White Lotus cult, who are intent on rubbing out all western influences from China. Cue high-flying kicks, punches and leaps, and a crazy fight atop a construction of tables. The climax, a memorable fight with Donnie Yen, is an absolute classic, with both giving their all. The speed and technique shown during the double-pole fight is staggering, and Yen's moves with his cloth staff are gob-smacking. It's a real treat to see kung-fu cinema of this quality.
Cassandra Maples
Super Reviewer
Once Upon A Time In China II Quotes
There are no approved quotes yet for this movie.