Once upon a Time in Mexico
(2003)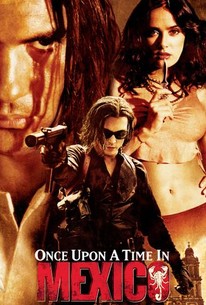 Once upon a Time in Mexico Photos
Movie Info
Haunted and scarred by tragedy, El Mariachi has retreated into a life of isolation. He is forced out of hiding when Sands, a corrupt CIA agent, recruits the reclusive hero to sabotage an assassination plot against the president of Mexico, which has been conceived by the evil cartel kingpin, Barillo. But El Mariachi also has his own reasons for returning--blood revenge. The desperado returns with his two capable cohorts Lorenzo and Fideo. And the legend of El Mariachi reaches new heights of adventure.
Critic Reviews for Once upon a Time in Mexico
Audience Reviews for Once upon a Time in Mexico
With an all-star cast and dynamic visualization, Rodriguez's third installment of the "El Mariachi" trilogy surpasses those that followed. With a dazzling presentation, violent storytelling and surprising performance from Johnny Depp, the film is a joy for those who love Rodriguez's films and/or just plain enjoy action films. 4/5
Eugene Bernabe
Super Reviewer
½
Robert Rodriguez once again tries to out-pulp his long term collaborator Quentin Tarantino in yet another remake of El Mariachi. He makes no bones as to his intentions, the opening credit proclaiming it "A Robert Rodriguez flick" rather than "film", and the result is a slickly entertaining but rather vacuous affair. Desperado had just the right mix of drama, humour and action but this sequel is rather lacking in the dramatic momentum that involves the audience. I think the problem is that Banderas' character is easily the least interesting of the ensemble cast; he does little more than mope around and shoot stuff in increasingly over the top set pieces to the point where it starts to feel like a hispanic Jackie Chan movie without the jokes. Far more interesting is Johnny Depp's amoral and smart-mouthed CIA agent, complete with tourist's wardrobe, fake arm and collection of comedy moustaches; I couldn't help thinking that it would've been a much better film if HE were the central character. But as it is, it's a fun slice of popcorn entertainment, and with Depp, Banderas, Salma Hayek (who is otherwise wasted) and Eva Mendes in the mix, there's plenty of eye candy for both sexes.
The conclusion to Robert Rodriguez's mariachi trilogy is a pretty epic, and really badass way to bring things to a close. There are however, too many subplots and characters, most of which don't make sense or are not handled all that well. I don't think that's why people wanna see this, or why they should see it though. This isn't about the plot or stories, but the stunts and spectacle. That's where this film really shines. The action is intense, well choreographed, and plentiful. There are a few too mant characters, but some of them are still pretty cool and quirky, especially the one played superbly by Johnny Depp. Doing just about everything but acting, Rodriguez delivers a rousing film here, and does a pretty excellent job (excluding the iffy screenplay, that is). This is probably #2 as far as ranking the trilogy goes, even though I've always had a soft spot for Desperado. If you want crazy action done right, then don't hesitate to give this one a watch.
Chris Weber
Super Reviewer
Once upon a Time in Mexico Quotes
| | |
| --- | --- |
| Agent Sands: | are you a mexiCAN or a mexiCAN'T? |
| Agent Sands: | Are you a Mexi-CAN or a Mexi-CAN'T? |
| | |
| --- | --- |
| Agent Sands: | Does "it" have a name? |
| Agent Sands: | Does 'it' have a name? |
| Cucuy: | They call him "El", as in "The". |
| Cucuy: | They call him 'El', as in 'The'. |
| Agent Sands: | .........I know what it means.......thank you........ |
| Agent Sands: | I know what it means... thank you. |
| | |
| --- | --- |
| Lorenzo: | Practice shooting, not drinkin. |