Once Upon a Time in the Midlands
(2003)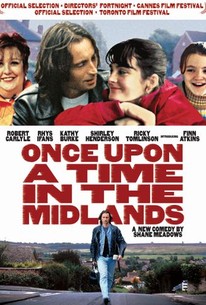 Once Upon a Time in the Midlands Photos
Movie Info
Shane Meadows directed this film, which is the third and final chapter in his Nottingham Trilogy which also includes 1999's A Room for Romeo Brass and 1997's Twentyfourseven. Starring The Full Monty's Robert Carlyle, Once Upon a Time in the Midlands is a twist on the traditional Western film, transplanting the action to modern-day Nottingham, England. Jimmy (Carlyle) is a small-time criminal who comes back into town after seeing his old girlfriend turn down a marriage proposal on television. Rhys Ifan (Notting Hill) co-stars as Dek, the jilted proposer who looks to stop Jimmy from rekindling the relationship. Once Upon a Time in the Midlands screened as part of the Director's Fortnight at the 2002 Cannes Film Festival.
Critic Reviews for Once Upon a Time in the Midlands
Audience Reviews for Once Upon a Time in the Midlands
Shane Meadows is without doubt, one of the best British directors around at present. He knows his way around the working class lifestyle of Britain with a welcome and refreshing outlook that has, until his arrival, been commandeered by the likes of Ken Loach and Mike Leigh. Waking up in a drunken haze Glaswegian crook Jimmy (Robert Carlyle) sees his ex, Shirley (Shirley Henderson), being proposed to on a daytime TV chat show. She spurns the proposal of Dek (Rhys Ifans) live on air, leading Jimmy to head back to his old town to claim back Shirley and his young daughter (Finn Atkins), that he left behind years ago. After "TwentyFourSeven" and "A Room for Romeo Brass", this completes Shane Meadows' so called 'midlands trilogy' and with the actors involved, this has an abundance of quality. Despite this though, it's the weakest of the trilogy. That's not to say that there's nothing to enjoy, there is, and its plentiful. It just seems a bit too lighthearted in comparison with Meadows' other films. The excellent actors involved put in fine performances. Ifans and particularly Carlyle are two of the best in the business; Henderson is one of the most underated of actresses, deserving of far more attention and adding Kathy Burke and Ricky Tomlinson for some mild comic relief is always welcome. However, with this undoubted talent onscreen, it only makes it more frustrating that they aren't pushed to the extent that they're capable of. I suppose this is down to Meadows prefering a more humourous approach and if you're aware of this beforehand then you might not feel as disappointed with the lack of danger that he normally applies to certain characters. His use of a spaghetti western theme throughout a 'kitchen-sink' family drama is a wonderful touch though. A good little comedy/drama that certainly entertains but it lacks any real emotional punch and should have made more of the fine ensemble of actors. Meadows' most impressive cast, yet strangely, one of his least impressive films.
Mark Walker
Super Reviewer
Been waiting for a while to watch this and found it hard to get hold of. You can certainly see the 'Shane Meadows' stamp on this one, but in comparrison to his other films, it doesn't quite measure up. Meadows himself, is pretty aware of this, as he has spoken of this in interviews. That being said, it's a light entertaining film with some great British actors and although that worked to a certain degree, Meadows talent lies in being able to pick fresh talent/untrained actors creating a gritty life-like situation. This was more of a 'roughed up rom-com' I did like the use of the talk show though, which strangely hasn't been used in any films that I am aware of.
Lady D'arbanville
Super Reviewer
A different film from Shane Meadows. A nice little story that definitely strays from his usual dark story lines. Overall all though I'm always looking foward to a Shane Meadows film
Keith Munley
Super Reviewer
Once Upon a Time in the Midlands Quotes
There are no approved quotes yet for this movie.