Once Upon a Time in the West
(1968)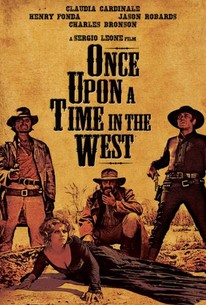 Once Upon a Time in the West Videos
Once Upon a Time in the West Photos
Movie Info
In Sergio Leone's epic Western, shot partly in Monument Valley, a revenge story becomes an epic contemplation of the Western past. To get his hands on prime railroad land in Sweetwater, crippled railroad baron Morton (Gabriele Ferzetti) hires killers, led by blue-eyed sadist Frank (Henry Fonda), who wipe out property owner Brett McBain (Frank Wolff) and his family. McBain's newly arrived bride, Jill (Claudia Cardinale), however, inherits it instead. Both outlaw Cheyenne (Jason Robards) and lethally mysterious Harmonica (Charles Bronson) take it upon themselves to look after Jill and thwart Frank's plans to seize her land. As alliances and betrayals mutate, it soon becomes clear that Harmonica wants to get Frank for another reason -- it has "something to do with death." As in his "Dollars" trilogy, Leone transforms the standard Western plot through the visual impact of widescreen landscapes and the figures therein. At its full length, Once Upon a Time in the West is Leone's operatic masterwork, worthy of its legend-making title. ~ Lucia Bozzola, Rovi
News & Interviews for Once Upon a Time in the West
Critic Reviews for Once Upon a Time in the West
Audience Reviews for Once Upon a Time in the West
½
Sergio Leone's ultimate Western is this glorious operatic elegy for the dying genre - a true masterclass in cinema filled with unforgettable scenes from beginning to end, endlessly quotable lines, an evocative use of silence, iconic performances and a sublime score.
Carlos Magalhães
Super Reviewer
½
Or ol'Sergio goes Hollywood, baby. Big and sprawling and dusty, this screaming Western-epic-western nearly looks as epic as it wants to be. And the stars are out for this too, like peanut shells under yer feet at a carnival, ready for their "Ima be famous!" trademark Leone close-up, only the rationale for the gist of this over long thing seems to be the least of Leone's worries, and that's too bad because by the ending, the bodies stacking up don't seem to matter much as we never really knew them much anyway. Why is everyone here on Rotten Tomatoes so enamored of this lesser Leone? Star power is my dubious answer.
Kevin M. Williams
Super Reviewer
½
Sergio Leone goes a long way with Once Upon a Time in the West. Perhaps too long.
Once Upon a Time in the West isn't exactly a race down the track and running 2 hours and 45 minutes doesn't help its cause. There are a lot of scenes that are drawn out, especially in the beginning, that do not need to be. Granted, the cinematography is solid, but story-wise it hurts. The film is nearly an hour in before it even feels like it starts to go somewhere.
The action is far and few in between. Sure, a Western, or any film for that matter, can live without bullets flying, but this picture needs it. The buildup is there; however, when the guns start shooting it is over as quickly as a bullet reaches its target.
The mystery and confidence behind Charles Bronson is fascinating, which leads to a fantastic character. Henry Fonda and Jason Robards do a good job of rounding out the trio of expert gunmen. Claudia Cardinale is a stunning presence that just grabs the eyes every minute she is on screen.
Once Upon a Time in the West has its moments and influences, but it also has its flaws. Watchable, if only once.
Once Upon a Time in the West Quotes
| | |
| --- | --- |
| Frank: | ...Make your ever lovin' brother happy |
| Frank: | Make your ever lovin' brother happy. |
| | |
| --- | --- |
| Wobbles: | You can trust me, Frank. |
| Frank: | Trust ya? How can you trust a man who wears both a belt and suspenders, a man who can't even trust his own pants? |
| | |
| --- | --- |
| Jill: | Hey, you're sort of a handsome man! |
| Cheyenne: | But I'm not the right man. And neither is he. |
| | |
| --- | --- |
| Harmonica: | Your friends have a high mortality rate, Frank |
| Harmonica: | Your friends have a high mortality rate Frank. |