L'Été meurtrier (One Deadly Summer)
(1983)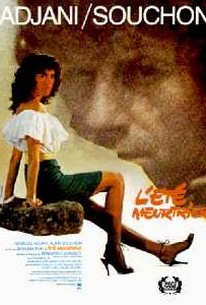 Movie Info
In this tragic tale of misunderstanding, obsession, and increasing madness, "she," a beautiful young woman (Isabelle Adjani) settles into a small town in the south of France with her introverted mother (Maria Machado) and physically handicapped father and soon becomes the subject of wild speculation because of her aloofness and at the same time, her obvious sexuality. The young woman is actually caught up in the desire to avenge the long-ago rape of her mother, a rape committed by three Italian immigrants, one of whom is associated with a player piano. An attractive car mechanic (Alain Souchon) is enamored of her, and the woman suddenly sees him in a different light when she learns that his father, now dead, was an Italian immigrant who owned a player piano. Intent on taking action against the mechanic's family to right the wrong suffered by her mother, the daughter begins to lose her grip on sanity when she finds out that the men she suspects of the rape are actually innocent. In fact, her father long ago exacted his own vengeance on the three rapists. This knowledge pushes her over the edge, and she has to be institutionalized. Meanwhile, the young mechanic misunderstands what has happened and sets in motion events that cannot but lead to tragedy. L'Été Meurtier garnered four different Cesars in the 1983 competition: "Best Actress" (Isabelle Adjani), "Best Supporting Actress" (Suzanne Flon), "Best Original Screenplay," and "Best Editing." ~ Eleanor Mannikka, Rovi
Critic Reviews for L'Été meurtrier (One Deadly Summer)
Audience Reviews for L'Été meurtrier (One Deadly Summer)
½
An interesting character study that benefits from a strong performance by Adjani as a beautiful young woman bent on revenge. Even so, the story is not only greater due to a predictable ending that you can see coming halfway through the film.
Carlos Magalhães
Super Reviewer
A fairly decent adaptation of a good psychological thriller by Sébastien Japrisot, scripted by the author himself. The trouble with it is, the book's greatest strengths - the richly detailed provincial French setting and the vivid characterisation, resulting from a multiple first-person narrative - prove difficult to translate to the screen, at least within the constraints of a sensible running time. The movie, therefore, somehow manages to feel simultaneously watered-down and overlong. Japrisot attempts to preserve his first-person narrative in voiceover form, but he overuses this device considerably; I've nothing against voiceovers per se, but cinema should primarily be about visual storytelling, and any movie this reliant on narration must be doing something wrong! Switching from coquettish sexiness to childlike vulnerability in the blink of an eye, Isabelle Adjani is marvellous in the lead role, but try to imagine the film without her and it begins to look very ordinary indeed. The rest of the cast are fine, though strictly two-dimensional. Jean Becker's direction is adequate but completely lacking in tension; a first-rate director - say, Claude Chabrol in his prime - would have made more of the psychosexual strangeness of the tale, and would have better disguised the fact that the nicely ironic ending hinges on a pretty indigestible coincidence. My advice: read the book; if you like it, watch this for Adjani.
L'Été meurtrier (One Deadly Summer) Quotes
There are no approved quotes yet for this movie.