One Eight Seven
(1997)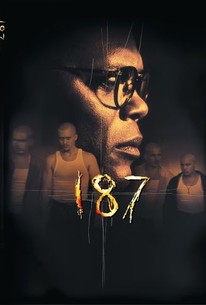 Movie Info
A dedicated high school teacher tries to imbue his troubled, mostly impoverished inner city students with discipline, respect and a love of learning, but unlike the educators in The Blackboard Jungle, To Sir With Love or even Stand and Deliver, this teacher fails and so resorts to desperate means to cope. Up until the moment he was stabbed by a vengeful gang member while teaching at a Brooklyn High School, Trevor Garfield (Samuel L. Jackson) was a dedicated educator. His nearly fatal wounding coupled with an indifferent school administration profoundly changed him. Fifteen months race past and a physically recovered Trevor is substituting at an inner city school in Los Angeles. But though he has changed coast lines, the students are just as vicious, angry and dangerous as their New York counterparts. Trevor is particularly bedeviled by Benny Chacon (Lobo Sebastian), a brazen gangsta who commits a murder and disappears, leaving the defiant Cesar in charge. In proving his dominion, Cesar (Clifton Gonzalez Gonzalez) and his cronies commit various crimes against Trevor, whose only friend is fellow teacher Ellen Henry (Kelly Rowan). When Cesar goes too far, Trevor goes over the edge. The action is punctuated by a driving musical score and restless MTV-style camerawork that adds artiness to the unswervingly downbeat plot. The title (pronounced "one, eight, seven") is used by gang members to denote homicide; they in turn took it from a police code.
Critic Reviews for One Eight Seven
Audience Reviews for One Eight Seven
Looked like some sort of B grade thriller, and didn't turn out to be much more than that.
familiar stranger
Super Reviewer
A great film, totally recomend people to watch this
Lady D'arbanville
Super Reviewer
½
a little wierd but interesting
One Eight Seven Quotes
There are no approved quotes yet for this movie.