One False Move
(1992)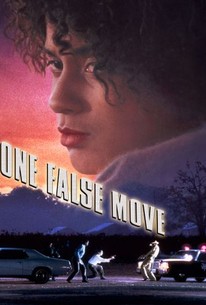 TOMATOMETER
AUDIENCE SCORE
Critic Consensus: One False Move makes nary a misstep as it unfurls a seedy caper with hard-hitting action and sly humor, marking an arresting debut for director Carl Franklin.
Movie Info
Carl Franklin made his directorial bow with the story of three LA drug dealers who, after committing a rather messy murder, hide out in a rural Arkansas town. Assuming that the local "rubes" will offer them little interference, the criminals have not reckoned with sheriff "Hurricane" Dixon (Bill Paxton). Despite the arrogance of the LAPD agents sent to Arkansas to collar the crooks, it is down-home Dixon who puts the final bloody showdown into motion (the fact that the thieves have been falling out throughout the film doesn't hurt things either). Carl Franklin knows where he's going in every frenetic frame of One False Move, and his movie was one of the most acclaimed independent releases of 1991.
News & Interviews for One False Move
Critic Reviews for One False Move
Audience Reviews for One False Move
½
"One False Move" is a masterful detective thriller, and unfortunately one that sits high atop the list of forgotten 90s classics. The great strength of the film, a story that shares on-paper familiarity with countless crime yarns, is the dimensions of it's characters who never feel less than real; sometimes frighteningly so. Co-written by Billy Bob Thornton, the screenplay abides by it's characters and propels a thriller not on action and overbearing dramatics... or even plot but on character choice, and the tension build associated with reveals on their nature, intentions, and relationships with each other. Director Carl Franklin (who never topped his work here) punctuates his film with sudden, ice-cold bursts of violence and sets the stakes high early on, with a mood reminiscent of early Coen brothers and John Sayles. The dark tone is juxtaposed by unexpected heart and humor, in no small part due to the naive, enthusiastic "Hurricane" played by Bill Paxton in a terrific performance. The dynamics of the film are really exposed when he shows up, at which point "One False Move" becomes a fish out of water story, a family drama, a buddy film, and even a smart examination of racial themes. Franklin propels it all to gripping, brutally efficient finale that in it's plausibility should have taught twenty years of Hollywood thrillers a thing or two. "One False Move" is a great movie that does just about everything right. It's grim, at times relentlessly so... but ultimately becomes so much more than a sum of it's noir elements. A standout of 90's filmmaking.
½
One False Move was simply a beautiful, and little seen, crime film. Three drug dealers on the run are suspected to be heading towards Arkansas. Here, a couple of big city cops meet up with the local sheriff. Paxton is fantastic in this role. He's not very worldly, has never had to use his gun, and is just a little too excited about the approaching threat. His enthusiasm comes off as naivety, and he is laughed off by the LAPD. The film does well to follow the cops and the killers. We see a bizarre triangle between the murderers. Thornton is filled with anger and out of control, whereas his partner is cool and calm but ultimately terrifying. The pacing of this film was done very well, offering moments of tension in a film that has a lot of waiting around. It also harvests a lot of emotion and depth for its characters. Paxton comes off the best as a giddy little boy waiting for Christmas. There are some great moments, such as his reaction to hearing the teasing from the city cops. Another scene sees him use the "n" word in front of the black cop. His facial expression is priceless, as he realises what he has said. Eventually Paxton takes responsibility, and he shows that his enthusiasm masks his competence. A big fish in a small pond. One False Move is very dark, but has a lot going for it. Most of all the tender ending.
Luke Baldock
Super Reviewer
lean and mean neo-noir. too bad carl franklin never made another film this good
Stella Dallas
Super Reviewer
One False Move Quotes
| | |
| --- | --- |
| Lila Fantasia: | Remember what you told me about hearing a whimper will? Somebody's going to die. |