One Flew Over the Cuckoo's Nest
(1975)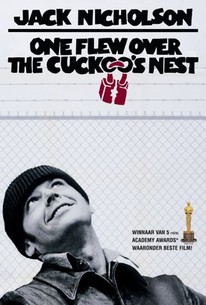 TOMATOMETER
AUDIENCE SCORE
Critic Consensus: The onscreen battle between Jack Nicholson and Louise Fletcher serves as a personal microcosm of the culture wars of the 1970s -- and testament to the director's vision that the film retains its power more than three decades later.
One Flew Over the Cuckoo's Nest Photos
Movie Info
With an insane asylum standing in for everyday society, Milos Forman's 1975 film adaptation of Ken Kesey's novel is a comically sharp indictment of the Establishment urge to conform. Playing crazy to avoid prison work detail, manic free spirit Randle P. McMurphy (Jack Nicholson) is sent to the state mental hospital for evaluation. There he encounters a motley crew of mostly voluntary inmates, including cowed mama's boy Billy (Brad Dourif) and silent Native American Chief Bromden (Will Sampson), presided over by the icy Nurse Ratched (Louise Fletcher). Ratched and McMurphy recognize that each is the other's worst enemy: an authority figure who equates sanity with correct behavior, and a misfit who is charismatic enough to dismantle the system simply by living as he pleases. McMurphy proceeds to instigate group insurrections large and small, ranging from a restorative basketball game to an unfettered afternoon boat trip and a tragic after-hours party with hookers and booze. Nurse Ratched, however, has the machinery of power on her side to ensure that McMurphy will not defeat her. Still, McMurphy's message to live free or die is ultimately not lost on one inmate, revealing that escape is still possible even from the most oppressive conditions. ~ Lucia Bozzola, Rovi
Critic Reviews for One Flew Over the Cuckoo's Nest
Audience Reviews for One Flew Over the Cuckoo's Nest
Another classic that doesn't fully engage me.
Film Crazy
Super Reviewer
Jack Nicholson is super charismatic as a free-spirited character who refuses to abide by the rules at a mental institution, in a great drama that has its best moments when showing his obstinate attempts to get through to people who have given in to conformism.
Carlos Magalhães
Super Reviewer
Jack Nicholson in his grandest form. "One Flew Over The Cuckoo's Nest" from 1975 is one of the greatest American films of all time that represented the apex of what was the essence of 1970's cinema. A $4.4 million dollar effort directed by Czech Milos Forman. It's allegorical theme is in the world of an authentic mental hospital during the early-1960's(Oregon State Hospital in Salem,Oregon) a place of rebellion exhibited by a energetic,flamboyant,wise-guy anti-hero against the establishment,institutional authority and status-quo attitudes(personified by the patients' supervisory nurse). Expressing his basic human rights and impulses,the protagonist protests against the heavy-handed rules about watching World Series,and illegally stages both a fishing trip and a drinking party in the ward-leading to his own paralyzing lobotomy. Jack Nicholson's acting persona as the heroic rebel McMurphy,who lives free or dies(through an act of mercy killing),had been earlier been set with his breakthrough performances in "Easy Rider"(1969), and "Five Easy Pieces", not to mention "Chinatown"(1974). The mid-1970's baby-boomers counter culture was ripe for a motion picture dramatizing rebellion and insubordination against oppressive bureaucracy and an insistence upon rights,self-expression,and freedom. The role of the sexually-repressed,domineering Nurse Ratched was turned down by six actresses-among them were Faye Dunaway, Anne Bancroft, Colleen Dewhurst, Geraldine Page, Ellen Burstyn, and Angela Lansbury-until Louise Fletcher accepted casting(in her debut film)only a week before filming began. Several actors including Al Pacino and even James Caan were originally offered the lead role of McMurphy,and Marlon Brando and Gene Hackman were considered as well. The lead role went to Jack Nicholson. The entire film was shot in sequence,except for the fishing scene(which was shot last). Opening on November 19,1975 in only four theaters and expanded into more cities the following week, "One Flew Over the Cuckoo's Nest" surprised everyone by becoming enormously profitable-becoming the seventh highest-grossing film of 1975 ranking in on its opening weekend $99,761 and expanding into more cinemas by December 7, 1975 bringing in $87,238 having a domestic total gross of $108 million and bringing in almost $300 million worldwide. The independently produced film also made motion picture history by sweeping the Oscars; it made history in 1975 to become the first film to take all the major awards including Best Picture, Best Director(Milos Forman), Best Actor(Jack Nicholson with his first win after losing the previous year for "Chinatown" in 1974), Best Actress(Louise Fletcher in her first win), Best Adapted Screenplay, Best Supporting Actor (Brad Dourif), Best Cinematopgraphy(Bill Butler and Haskell Wexler), It was nominated for Nine Academy Awards in total being victorious in winning five including Best Picture. Jack Nicholson's historic win beat out some strong competition which included Al Pacino(Dog Day Afternoon); Ryan O' Neal(Barry Lyndon), Roy Scheider(Jaws),and Kris Kristofferson(Sailor Who Fell From Grace With The Sea). "Cuckoo's Nest" also beat out some tough competition for Best Picture by Robert Altman's "Nashville", Stanley Kubrick's "Barry Lyndon", Sidney Lumet's "Dog Day Afternoon",and Steven Spielburg's "Jaws"(which went on to break historic boxoffice records by becoming the Number One top grossing picture of 1975). "Cuckoo's Nest" became the second motion picture to win all five major awards following 1934's "It Happened One Night" which was an accomplishment not repeated until 1991's "The Silence of the Lambs"(also won all five major awards but also became the first horror movie in motion picture history to win the Oscar in 1991 for Best Picture). The film is Number 33 on the American Film Institute's list of the 100 Greatest Movies Ever Made,and was selected for preservation in the National Film Registry. "Cuckoo's Nest" also swept the Golden Globes winning six in all including Best Picture, Best Actor, Best Actress, Best Supporting Actor, and Best Adapted Screenplay(Lawrence Hauben and Bo Goldman who also won the Oscar for Best Adapted Screenplay based on Ken Kesey's best selling novel is based on Kesey characters that were from real-life psychiatric ward patients at a VA Hospital in Menlo Park California where he once worked during the late-1950's). The novel on which it was based originally was dramatized on Broadway(an adapted play by Dale Wasserman) beginning in 1963 with actor Kirk Douglas starring in the lead role as McMurphy and Gene Wilder as stuttering Billy Bibbit. Kirk Douglas bought the rights to the novel,but couldn't convince film studios to produce(studios from 20th Century-Fox to Universal rejected it before United Artists inquire interest). Many years after its short theatrical run,Douglas transferred the rights to his son, actor/writer/producer Michael Douglas,who co-produced the United Artists film with Saul Zaentz. Michael Douglas had considered playing the starring role,but by the time of the film's production, he judged himself too old. Interesting points about this film.....the movie was a stepping stone for up and coming actors who would carve there own careers in Hollywood with the debut of actors Danny DeVito and Christopher Lloyd in supporting roles. Even after some 41 years later the film is a prime and brilliant example of a society that will not bow down to authority and will take any chances necessary to stand his own ground in an institution that refuses to stand for what is right....This was the example of great 1970's cinema.
Mister Caple
Super Reviewer
One Flew Over the Cuckoo's Nest Quotes
| | |
| --- | --- |
| Dr. John Spivey: | Do you think there's anything wrong with your mind really? |
| Randle McMurphy: | Not a thing, doc. I'm a goddamn marvel of modern science. |
| | |
| --- | --- |
| Randle Patrick McMurphy: | Chief, just jump up, and put it in the basket. Jump and put it in the basket. No, not you Machini. |
| | |
| --- | --- |
| Randle Patrick McMurphy: | I tried, god dammit. At least I did that. |
| | |
| --- | --- |
| Randle Patrick McMurphy: | You guys complain how much you hate it here, and then don't even have the guts to leave! You're all crazy! |