One for the Money
(2012)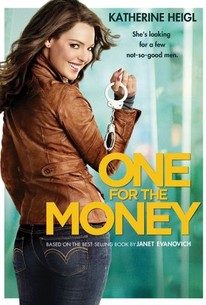 Movie Info
A proud, born-and-bred Jersey girl, Stephanie Plum's got plenty of attitude, even if she's been out of work for the last six months and just lost her car to a debt collector. Desperate for some fast cash, Stephanie turns to her last resort: convincing her sleazy cousin to give her a job at his bail bonding company...as a recovery agent. True, she doesn't even own a pair of handcuffs and her weapon of choice is pepper spray, but that doesn't stop Stephanie from taking on Vinny's biggest bail-jumper: former vice cop and murder suspect Joe Morelli - yup, the same sexy, irresistible Joe Morelli who seduced and dumped her back in high school. -- (C) Lionsgate
News & Interviews for One for the Money
Critic Reviews for One for the Money
Audience Reviews for One for the Money
0 stars. I'm not even sure what I watched. Comedic bounty hunter stories always require too much suspension of disbelief for me. Apparently, the Stephanie Plum series is a fun collection of books, and the movie stays pretty faithful. Despite having not read the books, I have to wonder whether brunette Katherine Heigl was the best choice for the sassy Jersey girl. I love her in 27 Dresses, but the darker hair color seems to sap her natural exuberance. Her Jersey accent is also godawful. Not even sterling-coiffed Debbie Reynolds could save this movie from vapidity.
Alice Shen
Super Reviewer
½
I think it's about time we all conduct an intervention for actress Katherine Heigl, whatever it takes to stop her from starring, and producing, such middling junk like One for the Money. Heigl plays a novice bounty hunter, a Jersey girl on hard times who is tracking down her ex-boyfriend for a big payday. Yes, it's essentially a gender reversal of the loathsome Jennifer Anniston movie, The Bounty Hunter, but at least this movie doesn't foster a forced romance. I give the movie some credit for presenting two potential love interests for Heigl and by film's end she's still on her own. Bravo. The rest of the movie, however, is all strictly by the book, including the colorful characters that Heigl seems to collect. One for the Money isn't particularly funny or particularly good. It also isn't particularly offensive; it's just the standard pap you expect from Heigl at this point. Here's a confession: I really, truly enjoy Heigl as an actress. She's terrific at comedy and has star-power charisma, and even in junk she's still effortlessly enjoyable to watch. This woman has talent, she just doesn't have taste when it comes to picking movie roles. Or maybe she's content with churning out a mediocre rom-com every year or so for her fans. I just wish Heigl would gain some confidence and bounce from the ghetto of rom-coms, or at least poorly written, blandly formulaic ones. She's taken the rom-com crown that once belonged to Julia Roberts, Meg Ryan, and Sandra Bullock, but look to them as example. You will have to adapt or die, because eventually Hollywood will find the next Katherine Heigl and supplant the old one. Nate's Grade: C
Nate Zoebl
Super Reviewer
½
Kind of liked it, even though it's not a great movie. I thought they kept it fairly close to the book (though was relieved they kept Stephanie out of the oversized t shirts and Lycra pants!). The Ramirez attack parts were played down and not as scary as in the book, actually bits of it missing. I thought Katherine Heigl did a good job as Stephanie. Having read the book, I think she got her across well. I think this movie didn't do so well, so doubt there will be more, though it has renewed my interest in reading more of the series. The book has good characters, as does the movie, which is why I think the flat story works okay. Not a bad adaptation.
Nicki Marie
Super Reviewer
One for the Money Quotes
| | |
| --- | --- |
| Stephanie Plum: | He looks like Michelangelo dipped the statue of David in caramel...and strapped some heat on him. |
| Stephanie Plum: | He looks like Michelangelo dipped the statue of David in caramel and strapped some heat on him. |
| Stephanie Plum: | Sure, I saw an old guy's twig and berries. But at least is bought me a meal that didn't come in a Lunchables box. |
| | |
| --- | --- |
| Joe Morelli: | We're ancient history! Like the pyramids, baby! |
| | |
| --- | --- |
| Joseph Morelli: | Catch me if you can Cupcake! |
| | |
| --- | --- |
| Stephanie Plum: | I'm naked. |
| Ranger: | I'm on my way. |