One Good Cop
(1991)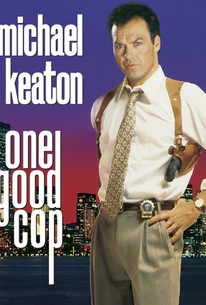 Movie Info
An honest man struggles to do the right thing, even if it means breaking the law, in this drama. Artie Lewis (Michael Keaton) is a scrupulously ethical cop who believes in his work, loves his wife Rita (Rene Russo), and stands by his partner Stevie Diroma (Anthony LaPaglia). Stevie is a single parent, and when he's shot and killed on duty, his three daughters (Grace Johnston, Rhea Silver-Smith, and Blair Swanson) are left with nowhere to go. Artie and Rita want to adopt Stevie's girls, but Child Welfare Services decides that their apartment is too small for three children. Artie needs to buy a house, which would require a $25,000 down payment that he doesn't have. Desperate, Artie grabs his gun and robs Beniamino (Tony Plana), a particularly scummy drug dealer who was peripherally involved in Stevie's death. Artie uses most of the take to buy the house, and he gives the rest to Father Wills (Vondie Curtis-Hall), who runs a local orphanage. However, what Artie doesn't know is that Beniamino's girlfriend Grace (Rachel Ticotin) is actually an undercover cop who won't stand by as Artie plays Robin Hood.
Critic Reviews for One Good Cop
Audience Reviews for One Good Cop
Michael Keaton plays a cop who finds himself taking care of his partner's 3 girls after he's killed. He finds himself doing things that he wouldn't usually do, in order to support them. The movie is a little routine with the usual "hand in your badge" type of stuff that you usually get in Hollywood cop dramas. While it's overdone with how we're constantly reminded why he's doing what he's doing. I mean, the movie has to keep showing that the kids are cute and that he cares about them. The movie also throws a big typical action movie shoot-out at us in the end that doesn't really fit in with the rest of the movie. However, I still like the movie due to the under-rated Michael Keaton that a lot of people dislike for no good reason. Rene Russo also does fine work as his wife. While Racgel Ticotin (Total Recall) isn't bad either a woman cop investigating him.
Fantastic story of a good cop become a newfound family.
Dean McKenna
Super Reviewer
One Good Cop Quotes
There are no approved quotes yet for this movie.