One in the Chamber
(2012)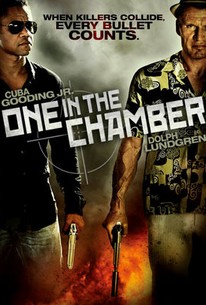 AUDIENCE SCORE
Critic Consensus: No consensus yet.
One in the Chamber Photos
Movie Info
In Prague, two skilled assassins make themselves available for hire to the Mafia. However, when one assassin, Carver (Gooding) takes a job with a gang he was once hired to eliminate, it launches into an all-out mob war where survival is about as certain as the number of bullets left in the clip. To make things worse, another assassin (Lundgren) has been hired to take out Carver and the result will make the streets run red. As Carver battles with his inner demons as well as his very real enemies, ONE IN THE CHAMBER doesn't let up until the very last man goes down.
Critic Reviews for One in the Chamber
There are no critic reviews yet for One in the Chamber. Keep checking Rotten Tomatoes for updates!
Audience Reviews for One in the Chamber
If you never even heard of this movie, there is a reason: One in the Chamber is a straight-to-video release starring Cuba Gooding Jr and Dolph Lundgren, and it was directed by William Kaufman. Very lame story happening after the fall of the Socialism in Eastern Europe. Dealers of weapons and drugs have turned Prague into their headquarters and they were happy to make millions of dollars by selling weapons to various gangs. In this story our "hero" Ray Carver (Cuba Gooding Jr.) is an assassin who works for two rival mafia families. After Carver fails in his assignment, another assassin is hired known as Alexei "The Wolf" Andreev (Dolph Lundgren), a legendary Russian hitman who is rumoured to be fictional. Alexei is out for Carver, but soon they both realize that they have to work together in the middle of a gang war... of course, there is some kind of a love story going in the background which, like the movie itself makes no sense from the first scene. [IMG]http://clzimages.com/movie/large/a1/a1_d_271310_0_OneintheChamber.jpg[/IMG] Just imagine: an African American who doesn't speak Czech language runs around with a huge metal case, enters a building and there is a woman cleaning the floor - it looked like a hospital - and she doesn't even look at him! Mate, who ever wrote this lives in another world - this scene alone is impossible to happen. Even if it was a Gipsy with much lighter skin colour that woman would scream her guts out for walking on her wet floor... That is real Prague! For some reason, reviews are not all negative and I suspect that it was made for US market and portrays that part of the world the way American imagine it. Lots of shooting and action and substance free! I could use this time better.
A slam-bang action-thriller. A total powerhouse of an action film that packs just as much star power as it does fire power. It`s stylish, slick, dzzlingly well-crafted and richly performend by the cast. Director, William Kaufman crafts another hard-boiled and intense thrill-ride that delivers all the way to the end. An explosive and adrenaline-pumping edge of your seat action-packed roller-coaster ride. A really entertaining movie that packs a full-clip of action, suspense and then some more. Loaded with great twist and surprises. A great movie that keeps you compelled with its character development and keeps you guessing with its suspense. It`s cool as hell and furiously awesome to watch. Cuba Gooding Jr. and Dolph Lungdren are at their best, they both give great and gritty performances. Gooding still gots the good and delivers. Lungdren is terrific. It`s one hell of a dynamic and sensational face-off between the two leads.
One in the Chamber Quotes
There are no approved quotes yet for this movie.