One Last Chance
(2003)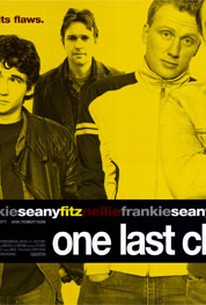 Critic Reviews for One Last Chance
Audience Reviews for One Last Chance
You know that quote that goes: 'Pizza is like sex, even when it's bad it's still pretty good'. Take the pizza and the sex out of it, and that's the way I feel about UK-set comedies. I remember one movie with John Cleese that I reviewed a couple of years ago, where has to give a speech someplace and on the way there he's continually sidetracked by the hi-jinks he finds himself in. Clockwork I think it's called. That's about the only UK-set comedy that I can remember really not liking. Well, and then there's this film right here. It's not that the film is BAD like 47 Ronin was bad, it's just that there's not much in the way of comedy, or at least what was there wasn't particularly funny to me. There are some funny bits and sight gags, but the story itself is pretty contrived. Fitz and his buddies live in a small town that everyone leaves the first chance they get. Fitz, whose job is never mentioned, lives in a modest apartment with his girlfriend and they plan to leave the town when they have enough money saved up. But first Fitz needs money to put his father into a home so he can be looked after after he leaves. One day, when helping Nellie on a job that required taking a dead guy to the morgue in a van, they find that the guy had a rock of gold held tightly in his hands. They take it and, immediately, think that all their problems are solved. Fitz can afford to both put his father into a home and leave with his girlfriend. I'm assuming the rest that was left over would be split evenly between Nellie and Seanie. I literally finished watching this movie less than an hour ago and I had to Google the name of the characters. Shows you how memorable they are. The point is, things don't go exactly as planned as the guys keep getting into contrived hi-jinks, one of which leads to them losing the chunk of gold because the van that it is in is being held as collateral to Big John, whom they own a debt to. Then they accidentally hit a guy, who was already having a heart attack, with his own car, that they were joyriding in. Fearing arrest they put the guy into his car and make it look like he crashed into a lake, that then froze over the car. One pretentious douchebag, leader of a CURLING club, a club that is treated by its members as a secret and prestigious organization to be in like Skulls and Bones, finds the guy underneath the frozen lake. He then gets Sean to admit that they did it. This douchebag, named Harry, wants in on it as he believes more chunks of gold may be found. So you can see how contrived things really get. Eventually the guys come up with a plan to save their asses, that I can't be bothered to go through here, and that part of the film was actually decent. How their plan came together. I just found all of this to be extremely forced and contrived, it feels like I just watched an extended episode of a really lame sitcom. If it was an extended episode of a sitcom, but that sitcom was Arrested Development, then that'd change everything. But it's not like that. The film certainly means well and the cast is fine, if not particularly impressive, but the fact of the matter is that the comedy was just completely underwhelming. It's made even more obvious when everything else in the film from the cast, to the directing, to the cinematography is so below average. You can watch much worse than this, but you can also do so, SO much better than this. Especially in the UK, they can shit out better movies than this 95% of the time.
Jesse Ortega
Super Reviewer
One Last Chance Quotes
There are no approved quotes yet for this movie.