One Magic Christmas
(1985)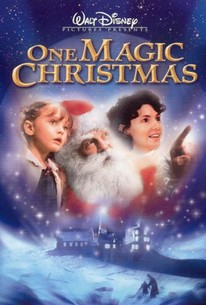 One Magic Christmas Photos
Movie Info
The "magic" in One Magic Christmas is often (and surprisingly) of the "black" variety. Like Jimmy Stewart before her, worn-out wife and mother Mary Steenburgen wishes that she'd never been born. And like Stewart, Steenburgen is visited by a guardian angel, in this case the western-garbed Harry Dean Stanton. Instead of granting Steenburgen's wish, Stanton shows her what life would be like without Christmas--and that vision is as grim as anything you're ever likely to see in any Holiday film. Throughout the horrendous tragedies heaped upon Steenburgen, we are comforted in the knowledge that Stanton is working in concert with Steenburgen's young daughter. Steenburgen learns her lesson of course, but what a ride!
Critic Reviews for One Magic Christmas
Audience Reviews for One Magic Christmas
½
From Disney comes the rather unusual holiday film, One Magic Christmas. The story follows an angel who's assigned to help a working mother find the Christmas spirit, and to do so he enlists the help of her daughter. Mary Steenburgen and Harry Dean Stanton lead a somewhat eclectic cast. And the plot too has its share of quirks, with the angel teaming up with Santa Claus, and the use of a Christmas Wish to bring back the dead. The tone shifts so wildly that it's hard to tell what kind of film you're in half the time; fantasy, comedy, tragedy. Still, One Magic Christmas manages to come through with some heartwarming moments.
Dann Michalski
Super Reviewer
"One Magic Christmas" is the complete opposite of what it's ridiculous title calls it out to be. As a little girl and her family are unsure of whether or not to believe in santa, a man comes, full of magic to bring christmas spirit. Events happen throughout the film that are random, tragic, and very cold hearted, but honestly, once that point came in the film, I truly did not care what happened to the characters. This film starts off simple and sweet, but completely falls apart in a random mess of bad acting and stupid plot points. Never have I been turned off from a christmas movie this much. The only thing it has going for it is christmas spirit, otherwise, it is one of the worst holiday films I've ever seen. Many shots are used over and over again, and the kids seem to have the same emotions and dialogue in ever scene, always asking a question. This film becomes very annoying, and particularly dark. I do not like this movie at all. It is a family film that no family should waste their time watching!
A depressing Christmas Tale about a family's loss during the season, and an Angel who can help them get through it. Not fun or magical!
Lafe Fredbjornson
Super Reviewer
One Magic Christmas Quotes
There are no approved quotes yet for this movie.