One Night With the King
(2006)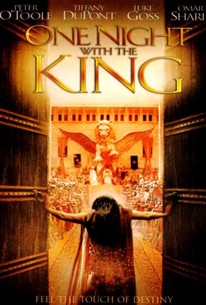 One Night With the King Photos
Movie Info
When a beautiful young slave girl learns that her people are about to fall victim to a horrible act of genocide, she will be forced to choose between realizing her wildest dreams or stepping into the pages of history to embrace her destiny in an epic tale of one young girl who rises from peasant to princess to claim the heart of a king. Esther was born an exquisite beauty, but her people have been enslaved by the most powerful kingdom on the planet and her parents executed before she ever had a chance to truly know them. Subsequently taken in by her kindly uncle, a royal scribe, Esther is soon spirited away to the royal palace to take her place in the king's harem. Trouble is stirring in this ancient land, however, and when the queen, Vashti, is banished by the unknowing king, palace princes scramble for a position of power the desperate king determined to live up to, and ultimately avenge the battles waged by his father long ago. Now, as the wheels of destruction are slowly set into motion, a malevolent prime minister who has fallen into favor with the king soon begins to wield a frightening amount of power by calling for the death of Esther's people. With time running out for her entire race, Esther must face her fears and be willing to lay down her life if she is to ever fully realize the plan that God has laid out for her.
News & Interviews for One Night With the King
Critic Reviews for One Night With the King
Audience Reviews for One Night With the King
½
The Biblical epic One Night With the King is a compelling story of faith and duty. A Jewish peasant girl named Esther wins the heart of King Xerxes during his search for a new queen, but when a nefarious prince named Haman plots to kill the Jewish population she must risk everything to save her people. James Callis gives an incredible performance as Haman; creating a tantalizingly evil villain that's smart and crafty. Tiffany Dupont's performance as Esther on the other hand is quite poor, and she's unable to hold her own against her co-stars. However, the production valves are extraordinarily well-done; from the costumes to the set designs, to the sweeping score, the film does a remarkable job at creating a grand, historical look and feel. A powerful tale of faith, One Night With the King is an inspiring spiritual drama.
Dann Michalski
Super Reviewer
½
The film generally adheres to the main plot of the Biblical narrative. However, the film adds stylistic elements not present in the Biblical story. The Jewish narrative of the relationship between Esther (Tiffany Dupont) and Ahasuerus (treated as Xerxes I of Persia in this, as in many adaptations) was not a love story, but a forced marriage in which Esther had no choice. The story presents many facets that could have happened rather than strictly sticking to biblical texts.
This was an Outstanding Movie, If you have traveled Western Europe or The Middle east, the scenes were so real, colors excellent, The Costumes were unbeleivable. This was a great movie, Do yourself a big favor get it, thank You Fox Family Video
Bruce Bruce
Super Reviewer
One Night With the King Quotes
| | |
| --- | --- |
| Esther/Hadassah: | This is my most valuable possession in the world. It is my past, my present, and my future. And all of it is yours. |
| | |
| --- | --- |
| Hadassah/Esther: | You think I'm like a child? Well you're wrong. I'm much younger than that! |
| | |
| --- | --- |
| King Xerxes: | I saw the stars. |