One Way Pendulum
(1964)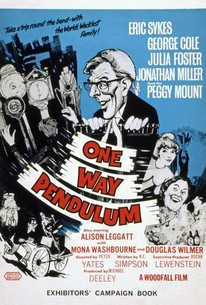 AUDIENCE SCORE
Critic Consensus: No consensus yet.
Movie Info
In this British comedy, the exploits of an eccentric family are chronicled. The patriarch is busy building a model of the Old Bailey courts in the living room. Meanwhile the wife hires a servant to eat their leftovers. Their daughter is terribly fascinated by apes, and their son spends his time attempting to play music on his weight scales.
Critic Reviews for One Way Pendulum
There are no critic reviews yet for One Way Pendulum. Keep checking Rotten Tomatoes for updates!
Audience Reviews for One Way Pendulum
"One Way Pendulum" is one of the strangest films you'll ever see. There are no druggy hallucinations, time distortions or splashy visual effects -- just pure deadpan absurdity. Apparently a seminal influence on the Monty Python/Goon Show school of British humor, the scenario is a day in the life of an oddball, obsessive family. The father carts home supplies from a humdrum accounting job and constructs a replica of a high English court in the living room, where he orchestrates his son's murder trial (note that some members of the court appear in different guises during the film's opening section). When called to testify, he swears upon a copy of "Uncle Tom's Cabin" because he has moral objections to the Bible.The mother can't bear unconsumed food and hires a neighbor to finish the family's leftovers. The daughter ignores her obvious attractiveness, instead worrying that her arms are too short and wishing she were built more like an ape. Poor Aunt Mildred sits in a wheelchair all day, believing she's in an Outer Hebrides train station while yammering about various modes of transportation. And the possibly murderous son (writer/director/producer Jonathan Miller, in a rare acting role) hoards talking weight machines in the attic and teaches them to sing in chorus. His body is turned on and off by the ring of a downstairs cash register, which the family uses to stop him when his machines become too noisy. He's a Pavlov fan, you see. Wha? The acting is wholly stone-faced, as if no one knows they're in a comedy or that anything unusual is happening. Insane! Director Peter Yates later worked on "Bullitt," "Breaking Away" and other much more mainstream projects.
Eric Broome
Super Reviewer
One Way Pendulum Quotes
There are no approved quotes yet for this movie.