Only Angels Have Wings
(1939)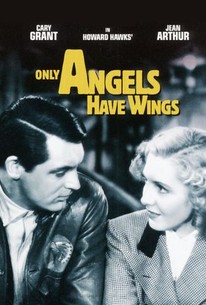 Only Angels Have Wings Photos
Movie Info
This film takes place in the Peruvian Andes. Cary Grant heads a ramshackle airmail and freight service, forced to fly in the most perilous of weather conditions to the most treacherous of destinations. Facing death on a near-hourly basis, Grant and his flyers have adopted a casual attitude towards mortality.
News & Interviews for Only Angels Have Wings
Critic Reviews for Only Angels Have Wings
Audience Reviews for Only Angels Have Wings
½
Cary Grant leads a tight ensemble of mail pilots in the Andes Mountains for whom frequently bad weather conditions turn every regular day of work into a dance of death. Somehow Jean Arthur gets off the boat and gets involved with the guys first and then with Grant. Much of this doesn't make sense or add up and yet the presentation is so atmospheric and well done that damned if one doesn't hang around for the ride. Rita Hayworth, in her first A picture, sizzles even then.
Kevin M. Williams
Super Reviewer
½
It's a film about adventure and romance, but what we really have here is a study on the nature of death by director Howard Hawks. A lone adventuress (Jean Arthur) steps off the boat in a tiny South American banana port, and makes quick friends with some lonely american pilots working for the local mail company. It's a friendship that ends all too suddenly and all too violently. But where she would shed tears for a soul lost to dust, his fellow pilots choose to sing songs and even laugh it off, as death could come for any one of them at any time. The dashing head of the crew (Cary Grant) is perhaps the most cavalier of the group, but then, he has to be, as he's the one who sends them out (possibly to their deaths). She's attracted to him, and he to her, not as some flighty dame, but as a real woman who knows how to value life. But it becomes her task to convince him that she won't try to change him like his last love (Rita Hayworth) did, and he must make the effort to want something, to want her, for more than a passing fancy. He, who never owns so much as a book of matches, feeling it's too much of a commitment. In the face of the constant threat of death, maybe this all seems unimportant, or maybe it's the only thing that IS important. Maybe that's the heart of the matter, the issue of what this life is all about and what are we doing here and why are we doing it. There is a scene towards the end of the movie, a pilot is going on "one last flight", and it's one he must make alone. It's the elephant in the room, the fact that everyone knows, but no one wants to say aloud. That we all must one day die, and that we will die alone. The light will die within us and the mystery of death will finally be revealed. It may be wrong to fixate on our ultimate fate, but it's more wrongful still to deny that fate completely. Only Angels Have Wings is a microcosm of all our own little lives put together. We push forward and persevere in our work and loves in spite of our own mortality, because to do otherwise would be to negate our whole existence in the first place.
Devon Bott
Super Reviewer
½
Great little drama packed full of twists and great characters.
Ken Stachnik
Super Reviewer
Only Angels Have Wings Quotes
There are no approved quotes yet for this movie.