Only God Forgives
(2013)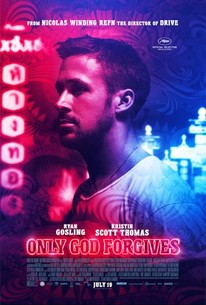 TOMATOMETER
AUDIENCE SCORE
Critic Consensus: Director Refn remains as visually stylish as ever, but Only God Forgives fails to add enough narrative smarts or relatable characters to ground its beautifully filmed depravity.
Movie Info
Julian (Ryan Gosling), a respected figure in the criminal underworld of Bangkok, runs a Thai boxing club and smuggling ring with his brother Billy. Billy is suddenly murdered and their crime lord matriarch, Crystal (Kristin Scott Thomas) arrives from London to bring back the body. When Jenna forces Julian to settle the score with his brother's killers, Julian finds himself in the ultimate showdown. (c) Radius
Critic Reviews for Only God Forgives
Audience Reviews for Only God Forgives
½
Visually excellent but with a story that fits on a beer coaster, director Refn doesn't even try to copy his masterpiece Drive. You gotta admire him for being weird, but this is pretty far out there. The violence is gruesome, the movie slow and with very few words, yet oddly mesmerizing thanks to its colorful images. The ending is pure chaos. You can't help but think: What the hell did I just watch?
Refn's Lynchian nightmare never makes you think that he is not in absolute control of this gripping arthouse film, as he crafts a hypnotizing atmosphere of strangeness that feels like a hard punch in the guts with so much visceral power and crushing intensity.
Carlos Magalhães
Super Reviewer
After Drive became a surprise hit that came seemingly from out of nowhere, the masses became familiar with Nicolas Winding-Refn. His follow up to that film, which is this one, sees him reunite with Ryan Gosling. Given the circumstances, the anticipation for this one was understandably high. And...how the film actually is compared to its trailer (which was amazing) is something that is still highly debated months after its release. This is a very polarizing film, and perhaps one of the most divisive to come out in quite a while. So what's this all about that has audiences and critics so divided? Julian is an American in Thailand who runs a fighting club that is actually a front for a major drug operation. His brother rapes and murders a young prostitute, and is then himself killed by the girl's dad who was prompted to get his revenge by a mysterious law enforcement figue. In the wake of all this, Julian's domineering, cruel, and manipulative mother (a major underworld figure) forces her remaining living son to get revenge on those responsible for the older (and favored) brother's death. Sounds like a brutal and amazingly engaging plot, but in reality, things aren't quite that way. Basically almost all of what I just described isn't actually given in the film, but comes from the marketing and promotional materials. There's not much plot, and very little that actually happens on the surface. There's less plot, dialogue, character development, and even characters than in Drive. Instead we get vaguely drawn ideas of characters or character types, and a bunch of stuff going on, albeit way under the surface. Even then, what the film is about is something very open to interpretation. It's also got an amazingly strong sense of mood, tone, and atmosphere, as well as some gorgeous and super expressive cinematography. This is a film that is about something, but it makes you work for it. That's either good or bad, depending on your perspective. I personally wanted to love this movie, but initially came away from it quite confounded. I've let it stew for quite a while though, and have warmed up to it a bit more, but still have some problems with it. I think it's a bit too slow, pretentious, and vague for its own good. Yeah, I don't always like to get spoonfed everything, but this film doesn't feed the viewer enough. It is primarily driven by mood, tone, and atmosphere, and that's kinda cool, but I think it relies too much on this, and ends up coming off as half baked and undercooked more often than not. The story is really cryptic, kinda confusing, and doesn't make a whole lot of sense...that is at least not initially, and after one viewing. I like that Gosling seems to be preferring this type of movie over mainstream stuff, but I think he'd be wise to choose more films that are artsy without being so vague and thinly developed. He does okay here, but I am being a tad kind. The real breath of fresh air is Kristin Scott Thomas who plays the only character that actually has emotions, thoughts, and feelings, or at least ones that are clearly depicted. She's a saving grace of this film, and really needed to be in it more. More characters like her in general would also have been nice. There are some neat sequences throughout, but given how the film explains little, and sometimes doesn't give proper context or payofff, their power is limited, and, in the case of a pivotal showdown, the results are sadly underwhelming. All in all, this is a mess, but it's fascinating and hypnotic. It's a borderline failure for me, but since it looks cool, has some good moments, and provokes strong reactions and conversations, I have no problem giving it the faintest of recommendations.
Chris Weber
Super Reviewer
Only God Forgives Quotes
| | |
| --- | --- |
| Billy: | Time to meet the Devil. |
| | |
| --- | --- |
| Julian: | Billy raped and killed a sixteen year old girl. |
| Crystal: | I'm sure he had his reasons, now sit. |
| | |
| --- | --- |
| Julian: | Its a little bit more complicated then that mother. |
| Julian: | Its a little bit more complicated than that mother. |