Only Yesterday
(1991)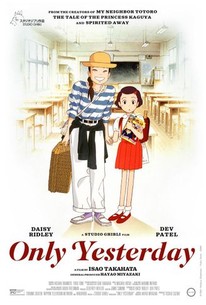 TOMATOMETER
AUDIENCE SCORE
Critic Consensus: Only Yesterday's long-delayed U.S. debut fills a frustrating gap for American Ghibli fans while offering further proof of the studio's incredibly consistent commitment to quality.
Movie Info
It's 1982, and Taeko (Daisy Ridley) is 27 years old, unmarried, and has lived her whole life in Tokyo. She decides to visit her relatives in the countryside, and as the train travels through the night, memories flood back of her younger years: the first immature stirrings of romance, the onset of puberty, and the frustrations of math and boys. At the station she is met by young farmer Toshio (Dev Patel), and the encounters with him begin to reconnect her to forgotten longings. In lyrical switches between the present and the past, Taeko contemplates the arc of her life, and wonders if she has been true to the dreams of her childhood self. From Academy Award (R)-nominated director Isao Takahata (The Tale of The Princess Kaguya) and general producer Hayao Miyazaki, Only Yesterday is a masterpiece of time and tone, rich with humor and stirring emotion, and beautifully animated by one of the world's most revered animation studios. Critically acclaimed but never before released in North America, the film is receiving a national theatrical release in a new, Studio Ghibli-produced, English-language version in celebration of its 25th anniversary.
Critic Reviews for Only Yesterday
Audience Reviews for Only Yesterday
'Grave of the Fireflies' Isao Takahata's second Ghibli feature is very different from the usual magical world, talking animals, and playful spirits approach that is almost synonymous with the studio's name. Instead, Takahata tackles a rarely trekked genre in animation, a fully realistic (devoid of fantasy elements) slice-of-life drama specifically made for adults. On paper, the film's premise reads like the most cliché Hollywood rom-com that we have seen a million times before: a young women from Tokyo decides to take a break from city life and vacations to the rural countryside of Japan to visit family and help with their safflower harvest. She meets a guy, who is her brother-in-laws second cousin whom she has never met before, and you pretty much already have the whole thing mapped out at this point. So what makes this film so much superior to those lesser Hollywood tales that came before this wonderful film? Because the simple and familiar plot serves as a backdrop to Taeko's (our female protagonist that keeps up Ghibli's reputation for strong and compelling woman characters) melancholic journey to find self-actualization while also facing overwhelming nostalgia for her younger years that gives way to many dreamily-animated flashbacks of her ten-year old self. It is a close-to-the-chest, honest, and bittersweet look at the nature of nostalgia and how our lives are greatly shaped by certain events in our past. The flashbacks are given a stream of consciousness presentation; displaying Taeko's relatable life from her first crush on a boy, finding out about menstruation, failing math tests, acting in a school play, to a hilariously disappointing incident involving a pineapple. The characters are understated and fantastic., The standouts are obviously our main lead Taeko herself (both 27 and 10 years-old) and especially the slightly goofy but admirably confident Toshio. The drama is very subtle and the animation beautifully gives a dream-like quality to Taeko's flashbacks. The pleasant Eastern European music also adds a nice layer to peaceful Japanese countryside and further distinguishes this film from other entries in the Ghibli catalogue. Once again this film is very much meant for adults, children will most likely be indifferent due to the film's deliberate pacing, lack of fantasy, and life-retrospective themes that will simply go over their ends. The movie is also one of the more "Japanese" Ghibli entries, making a couple references to Japanese pop culture from the 1960's but not nearly enough to make the film hard to understand. Also the film remains the only Ghibli film to not be released in the US, so subbed is the only way to watch it. According to Disney, having a film involving raccoons with giant testicles is perfectly acceptable (Pom Poko), yet a five minute scene involving ten-year old girls talking about periods is deemed unacceptable!?! Hopefully something will happen that will finally see this underrated masterpiece released in America. On a final note, 'Only Yesterday' is an extremely touching and honest look at a young women's examination of her life and were it is headed next. The closing credit sequence is one of the few times I've shed a tear in any movie, and I don't cry easily.
Christopher Heim
Super Reviewer
Bueatifully animated and just wonderful to watch. This is a great movie about child reminisces during your adult years and how time can literally just pass us by.
Ian Walker
Super Reviewer
A cultured and sophisticated Japanese animation by Isao Takahata for adults, Only Yesterday passionately reminisces adolescence that gradually motivated a realization on life and love. A visually meaningful masterpiece from Studio Ghibli, Only Yesterday, as the main character, embraces and shares self-actualization. Perpetual beauty.
Jan Marc Macababayao
Super Reviewer
Only Yesterday Quotes
| | |
| --- | --- |
| Taeko: | Perhaps my fifth grade self is trying to tell me a new way to fly. |
| | |
| --- | --- |
| Taeko: | When my sisters recall the good old days it's mainly about fashions or pop starts. For them 1966 was the high point of their youth. But for me it was just fifth grade. |