Onna hissatsu ken (Sister Street Fighter)
(1974)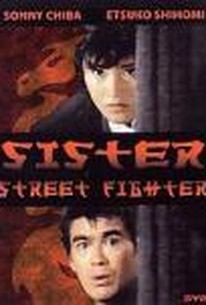 AUDIENCE SCORE
Critic Consensus: No consensus yet.
Movie Info
This kung-fu outing was a spin-off of martial arts star Sonny Chiba's popular Street Fighter series. Like those films, it combines high-kicking martial arts with comic-book plotting and a dollop of B-movie sleaziness. It features regular Chiba sidekick Sue Shiomi as Tina Long, a tough martial arts expert who agrees to go undercover for the Hong Kong police when her policeman brother, Lee (Hiroshi Miyauchi), disappears during an anti-drug operation. She enlists the help of her brother's karate school, which includes the expert fighter Sonny Kawasaka (Chiba). Together, Tina and Sonny go up against a formidable drug lord and an army of martial artists, each with their own deadly skill. In the process, she uncovers some dark secrets about her family. Star Sue Shiomi continued to star in martial arts films and later revived the Tina Long character in two sequels. ~ Donald Guarisco, Rovi
Critic Reviews for Onna hissatsu ken (Sister Street Fighter)
There are no critic reviews yet for Onna hissatsu ken (Sister Street Fighter). Keep checking Rotten Tomatoes for updates!
Audience Reviews for Onna hissatsu ken (Sister Street Fighter)
Obvious spin off from the much much better martial arts film 'The Street Fighter' but has nothing to do with the former film, this is a stand alone story. I realise this may be seen as a cult these days but I really didn't think much of it, the whole thing was so damn hokey and daft looking, almost like an Oriental version of the 60's Batman TV show! All the fighting is clearly staged with fists and kicks nowhere near their intended targets haha the acting is worse than usual as is the dialog but the really sore point is the fact Sonny Chiba is hardly in it. Apart from the fight finale Chiba doesn't really figure in the film despite the title, add to that the fact the film has nothing really to do with the original and the whole cheesy look of everyone and everything, the bad guys look like they have just stepped of the stage of a children's pantomime show. The original Street Fighter was hard ass and vicious, this attempts the same but fails, a bit of blood n gore near the end but its little too late.
Phil Hubbs
Super Reviewer
Old School Kung-Fu type film, with mostly role's being played by females. I collect Sonny Chiba films, and this is a continuation of his Street Fighter Series, But Sonny makes a very brief appearance in this film, my guess to boost attendance when it first came out. Shortly after this movie begins we come to a scene that shows Nazi swastikas at the shorinji school of Karate, what?s up with that. There is plenty of fighting action, there are about 9 different bad guys that very capable Etsuko Shihomi has to go through to find her brother who has been jacked up on opium. I thought the blow dart guy was the coolest. They also had some black hooded dudes running around. This movie is worth tracking down for anyone who loves old karate flicks Its in my collection but its hard to give anything more then 3 stars. Now its on to Sister Street Fighter 2,3,4
Bruce Bruce
Super Reviewer
½
"Sister Streetfighter" is a spinoff of Sonny Chiba's "Streetfighter" series, this time with the impossibly cute and dimpled Sue Shihomi in the starring role. OK, I will admit, this film is technically not that great. The acting is bad, the plot cheesy, and you can drive a truck through the holes in it. So I will admit I have a sick addiction to these types of movies, because I loved "Sister Streetfighter". What other movie gives you a cavalcade of freak-shows like a drugpin who collects "killers" at is secluded villa, a guy who exports his heroin disguised as human wigs, a henchman named Hammerhead with a gang who wears black cone-shaped wicker baskets for helmets, a group of girl Thai kick boxers in leopard-print named the "Amazons 7", a dart-blowing freak with a weird African shield and dime-store cape... a movie where you will see an assortment of weapons including staff, forks, tonfa, nunchuku, darts... need I go on?? "Sister Streetfighter" is that, and more. Sue Shihomi starts off the movie doing a combination of the katas "kanku dai" and "heian yodan". There is not much biographical information on her on the web but I would guess she has some formal karate training because she is executes many of her kicks well, and in one scene she executes three really nice thrust kicks in a row. You don't often see good technique in martial arts films. As a result the fight scenes with Shihomi in it are very good, exciting and dynamic. She shows herself skilled also at using nanchaku and the sai (forks), one of which she plant in a poor fellow's head. And Sonny Chiba steals the few scenes he is in. The cheesiness of this movie cannot be understated. In one scene Tina Long (Shihomi) finds her way onto the evil drugpin's property. She is discovered by the henchman "Hammerhead". Suddenly and inexplicably, they are transported high atop a sea-side cliff. Then, just as suddenly, they are fighting on a suspension bridge. I mean, this is classic stuff people! Also hilarious is the person introduced as "Eva Parrish - Karate Champion of Australia" is shown doing an absolutely horrible version of the kata "tekki shodan". Then the mysterious Ms. Parrish is never seen again in the film. Recommended for fans of the genre!
David Ladd
Super Reviewer
Onna hissatsu ken (Sister Street Fighter) Quotes
There are no approved quotes yet for this movie.