Open Hearts (Elsker Dig For Evigt)
(2002)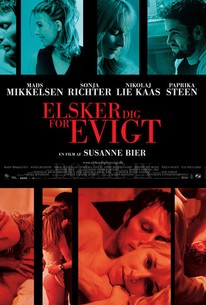 TOMATOMETER
AUDIENCE SCORE
Critic Consensus: Pulsing with honesty, this film lays bare the rawness of human emotion with a story made all the more believable thanks to its gritty, low-budget approach.
Open Hearts (Elsker Dig For Evigt) Photos
Movie Info
Two people are brought together by a tragic accident in this emotional drama. Joachim (Nikolaj Lie Kaas) and Cecilie (Sonja Richter) are a couple in Copenhagen who've fallen deeply in love and have made plans to marry. One day, Joachim is severely injured in an auto accident when he's struck by a woman named Marie (Paprika Steen), leaving him paralyzed from the neck down. As fate would have it, the doctor put in charge of Joachim's care is Niels (Mads Mikkelsen), who happens to be Marie's husband. Joachim, deeply depressed since the accident, tells Cecilie to leave him and find someone else, but while she intends to stay with the man she loves, she finds it increasingly difficult to deal with his mood swings and frequent anger. Meanwhile, Marie, wracked with guilt over the accident, asks her husband to look after Cecilie, and as they spend more and more time together, they find themselves becoming increasingly attracted. Eventually, Cecilie and Niels become lovers, leaving them both to deal with their betrayal of the people they've sworn to stand by. Filmed following the austere guidelines of the Dogma 95 movement, Open Hearts received its North American premier at the 2002 Toronto Film Festival and was screened in competition at the 2003 Sundance Film Festival.
News & Interviews for Open Hearts (Elsker Dig For Evigt)
Critic Reviews for Open Hearts (Elsker Dig For Evigt)
Audience Reviews for Open Hearts (Elsker Dig For Evigt)
Well, being a married woman I found this film very disheartening. What exactly was the point of all that heartache? I guess I would have preferred to have a storyline with some resolution somewhere. The end of this film was just ungratifying. No wrapping up of loose ends. Everyone was just ruined at the end, and she just drifted away aimlessly. On top of that, it was 2 hrs of watching her go back and forth between men. Not exactly exciting. This is the kind of slow, artsy type of film that critics love to love. Me not always so much...
Cynthia S.
Super Reviewer
Late influence of Dogma 95. The Dogma certification in the opening credits had a strange effect on me, as going against the movement itself. Dogma 95 manifesto is very interesting, but it's reflection on contemporary cinema and on film as art and not illusion are not new (Italian neo-realism, cinéma vérité) as it's not only avoiding technical manipulations that we will be able to reach the "naked cinema". Most background music are definitely an artifice to manipulate spectator - I won't mention visual effects, let's keep it simple - but in the same way we can find truth beyond technique, we can be duped by so-called reality (how true can a documentary be?). "Elsker dig for evigt" can follow almost every rule of the manifesto, but it is still a fiction that will "work" on our emotional as any other film would. When "Le scaphandre et le papillon" and "Mar Adentro" focus more on the patient's vision, "Elsker dig for evigt" focus on how the paralysis affects other's life, on Cecilie's journey through her pain. Pay attention on the opening scene, final credits and song that goes together: "lighting is not acceptable, optical work and filters are forbidden". Was that supposed to work as a contradiction to reality or they are just there? "Music must not be used unless it occurs within the scene being filmed". And the song that plays when Cecile is sleeping in the hospital with Nikolaj, for example? If "reality" is one of its strong points - in lot of scenes, the lack of "superficial" acting let it more superficial as iit'd be in a play - "reality" had been better explored by names as Andy Warhol (Eat, Sleep, Kiss, etc ), John Cassavetes and Abbas Kiarostami, just to mention some, no matter if they shot in digital video or on film or if they used or not well-known technical devices.
Rubia Carolina
Super Reviewer
Lives are changed in an instant when a doctor's wife, Marie (Paprika Steen), accidentally runs down Joachim (Nikolaj Lie Kaas) and he winds up quadraplegic. Marie's husband, Niels (Mads Mikkelson), offers comfort to Joachim's fiance, Cecile (Sonja Richter), which becomes something more than aid and comfort. A lot of raw emotions are on display here as Joachim at first pushes everyone away. By the time he comes to terms with his injury, Cecile has moved on, although unable to admit it to herself. Excellent production that pulled no punches. No one escapes unscathed. Each of these four people, plus Niels' and Marie's teenage daughter, Stine (Stine Bjerregaard), who blames herself for the accident, are put through the ringer and come out the other side forever changed but somehow equipped to go on. All of the various parts are rearranged but functional. A wholly believable tale, competent actors, and interesting camera work on a film from the Dogme school and directed by Susanne Bier. This viewer found it impossible to watch without empathy for each of the characters' torments.
Mark Abell
Super Reviewer
Open Hearts (Elsker Dig For Evigt) Quotes