Open Water 2: Adrift
(2007)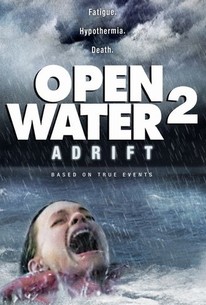 Open Water 2: Adrift Photos
Movie Info
A seafaring birthday celebration takes a turn for the terrifying when the passengers of a luxury yacht forget to lower the automated ladder before jumping into the ocean for a playful swim. It was a perfect setting for a relaxing weekend at sea, but sometimes even the best-planned trips can take an unexpected turn for the worst. After diving into the ocean and realizing to their horror that they have forgotten to lower the safety ladder, the friends who had set out for a simple weekend getaway realize that they have become helplessly stranded in the middle of the ocean. The sheer sides of the yacht are impossible to climb, and now the group is growing increasingly desperate. As the grim reality of their helpless situation slowly begins to dawn on the doomed friends, hydrophobic Amy (Susan May Pratt) struggles to maintain her composure after realizing that her baby daughter Sarah is helpless and alone aboard the boat. Now treading water as panic begins to set in, the once inseparable friends fast begin to turn on one another as exhaustion begins to set in and the vast ocean threatens to swallow the entire group without a trace.
Critic Reviews for Open Water 2: Adrift
Audience Reviews for Open Water 2: Adrift
½
Much better than the first one, this has characters you can relate to and drama you can understand. Sure, they didn't come up with some great ideas for trying to get back onto the boat, but you never know how you'll act in their position. The ending was annoying, but I can look past that.
Sophie Burgess
Super Reviewer
½
A bunch of people you don't like, make stupid decisions and put themselves in a lot of trouble. Then they more bad decisions and it gets worse and then that douche from Grey's Anatomy cries. There are a couple of moments that are well done, but overall meh.
Ken Stachnik
Super Reviewer
Pretty lame movie actually. Very boring. I hate movies with stupid characters, and this movie is nothing, but stupid characters doing stupid things. The fact that they all forgot to put the ladder down, was just so dumb. Then the fact that the main problem in the movie was them trying to figure out how to get back into the boat, was even dumber. There's nothing I love more than watching a bunch of idiots try to get back onto a boat. They had some smart plans like using the inflatable whale, and tying their swimsuits together to make a rope. However the stupidity kicked in, when the only people trying to execute those plans were muscular, grown men. There's two functioning, slim women treading water right next to you, why on earth would you expect a rope made out of swimsuits or an inflatable whale to hold your weight?? The whole movie was pretty pointless. The lack of sharks was really disappointing also. The movie is pretty much about a bunch of people who tread water for days then complain about it. People get hurt and die, but not in very exciting ways. It's a huge letdown.
Open Water 2: Adrift Quotes
There are no approved quotes yet for this movie.