Operation Condor (Fei ying gai wak) (Armour of God II)
(1991)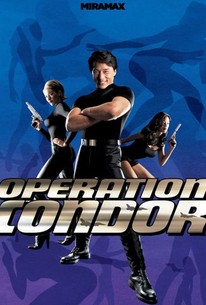 Operation Condor (Fei ying gai wak) (Armour of God II) Photos
Movie Info
Jackie Chan returns to his adventuring Indiana Jones-esque Asian Hawk character with this rollicking action-adventure yarn. In this go-around, Jackie (aka the Asian Hawk) is looking for 240 tons of gold stolen by the Nazis and buried beneath the Sahara. Along the way, he teams up with a stuck-up archeologist named Ada (Carol Cheng), a Japanese tourist named Momoko (Shoko Ikeda), and Elsa (Eva Cobo De Garcia), the granddaughter of the Nazi captain who originally hid the booty. Opposing them is various groups of blackguards and mercenaries along with Adolf (Aldo Sanbrell) -- the last surviving soldier from the original company -- who is hell-bent on getting the gold himself. Soon, two of Jackie's companions find themselves sold into slavery while Jackie battles the baddies in a massive WWII-era wind tunnel. This film ran 100 percent over Chan's already lavish -- by Hong Kong standards -- budget, making it one of the most expensive films that industry has ever produced.
News & Interviews for Operation Condor (Fei ying gai wak) (Armour of God II)
Critic Reviews for Operation Condor (Fei ying gai wak) (Armour of God II)
Audience Reviews for Operation Condor (Fei ying gai wak) (Armour of God II)
½
Jackie Chan steps into both the starring role and director's chair for Operation Condor.
Set in various locations, the story is straight forward, yet entertaining for a film that is heavy on the action. The run time is nearly 105 minutes, but it feels much faster than that. This is due to some minor choppiness, but more so to the playful nature of the story.
The action is a plenty and the stunt work is phenomenal with a few replay instances thrown in. There are a variety of segments and scenarios, in which Chan is able to blend his martial arts and stunts into. These are definitely the highlight of the film.
There isn't much in the way of serious acting, and this isn't a problem. The characters are very lively and humorous with their facial expressions, dialogue, and actions. Jackie Chan excels with his character, and the likes of Carol Cheng, Eva Cobo, and Shoko Ikeda end up as a wonderful trio of women to watch.
Operation Condor is an easy going witty action adventure. Recommendable for Jackie Chan fanatics.
Great little action/kung fu flick.
Tim Salmons
Super Reviewer
A very good martial arts with some great fights and plenty of humour to. One of Jackie Chan's best earlier films.
Operation Condor (Fei ying gai wak) (Armour of God II) Quotes
There are no approved quotes yet for this movie.