Operation Dumbo Drop
(1995)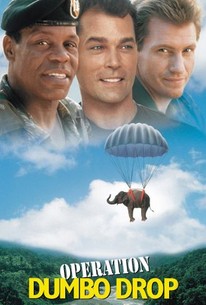 TOMATOMETER
AUDIENCE SCORE
Critic Consensus: The Vietnam War would seem an unlikely backdrop for a family-friendly comedy involving an airlifted elephant, and Operation Dumbo Drop lands with a thud.
Operation Dumbo Drop Photos
Movie Info
During the Vietnam War, a Green Beret unit is given an unusual mission: to improve relations with a small village, they must find and deliver an elephant in time for an important ceremony. This family comedy centers on their often humorous attempts to locate and transport the massive beast.
Critic Reviews for Operation Dumbo Drop
Audience Reviews for Operation Dumbo Drop
Interesting plot, but not a really interesting film to watch.
Lucas Martins
Super Reviewer
½
Disney decided to make a family friendly film centered around a story (inspired by true events) taking place during the Vietnam War. It sounds a little unlikely, but it happened. Until recently, I hadn't seen this film since maybe around the time it came out. I can't believe I hadn't reviewed it on here yet. Here's the thing, I'm not against making a movie based on this story, because it is a good story, I just don't think it should have been a family friendly Disney film. It's a about two Green Berets and a few other GIs who have to deliver an elephant to a remote village to replace their old one who was killed due to a cultural misunderstanding on the parts of one of the GBs. The title of the film should have cut out the Drop, as it gives away the climax, thus stripping away what could have been a lot of tension, suspense, and surprise. Also, given the circumstances, the film has to water down a lot of its depiction of the war, glosses over (for the most part) a lot of subtext, and plays it safe, adding in lots of schmaltz and predictability. I will say that it is moderately entertaining, but terrible history. Had this been any other studio, and not had to cater to the family crowd, it more than likely, but not necessarily, could have been a far stronger film. Maybe that's just the more mature me being grumpy because I've got a better understanding of the world than I did when I first saw this. Like I said though, as is, it is moderately entertaining, and it does have a tad bit of profanity and a few dark moments, but ultimately it plays it safe. I think the best thing it has going for it are the rockin' period tunes and the cast. I mean hell, it's got Danny Glover, Ray Liotta, Denis Leary, the guy who played Parker Lewis, and Doug E. Doug! That's awesome. These guys deserved a better and stronger film, but I think they had at least a bit of fun here, even if they all did probably just do it for the money. The movie's not great, but it's not too terrible either. It's mostly just sanitized and run of the mill. I wasn't bored watching it though, and some of it was funny, but I think if this would have been an art film and really focused on some of the subtext and cultural issues more it could've really been something.
Chris Weber
Super Reviewer
Operation Dumbo Drop Quotes
There are no approved quotes yet for this movie.