Oranges And Sunshine
(2011)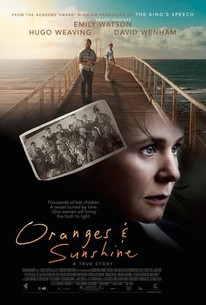 TOMATOMETER
AUDIENCE SCORE
Critic Consensus: Grounded in a heartwrenching fact-based story, steered by Loach's sensitive direction, and led by a powerful performance from Watson, Oranges and Sunshine sidesteps its pacing problems and occasionally clichéd screenplay.
Oranges And Sunshine Photos
Movie Info
Oranges and Sunshine tells the story of Margaret Humphreys (Emily Watson), a social worker from Nottingham, who uncovered one of the most significant social scandals of recent times; the mass deportation of children from the United Kingdom to Australia. Single-handedly and against overwhelming odds, Margaret reunited thousands of families and drew worldwide attention to an extraordinary miscarriage of justice. Children as young as four had been told that their parents were dead and sent to children's homes on the other side of the world, where many were subjected to appalling abuse. These forgotten children were promised Oranges and Sunshine but they got hard labour and life in institutions. -- (C) Icon
News & Interviews for Oranges And Sunshine
Critic Reviews for Oranges And Sunshine
Audience Reviews for Oranges And Sunshine
½
Really good movie based on sad, but true, events. A rather painful movie to watch. Any time anyone is brutalized is awful, but when children are involved... well, it causes me to yet again wonder why mankind does what it does. The events that happened here are horrendous, and I applaud those that tried to help these victims. Watching this well done film has prompted me to furthur search this story. .....
Cynthia S.
Super Reviewer
A gut-wrenching tale, based on a true story, of the campaign by Margaret Humphreys, a British social worker, to understand how and why thousands of children were torn from their families and sent to Australia and other colonies, to live in horrible conditions. Emily Watson is a tour de force as the woman who would not relent until she had some answers for these lost souls who came to her for help in trying to find who they are. An excellent supporting cast, a tight script and a compelling story come together to make this an emotional journey and a recommended film.
Mark Abell
Super Reviewer
½
There have been a number of young directors coming through recently who have gained attention not just through their talents but through the reputation of their fathers. We have Nicolas Winding Refn, son of acclaimed editor Anders Refn, whose recent feature Drive could translate his cult status in Europe into mainstream popularity. We have Rowan Joffe, son of The Mission's Roland Joffe, whose remake of Brighton Rock contains moments of future promise. And now we have Jim Loach, son of Ken, who has delivered one of the best films of the year with Oranges and Sunshine. Oranges and Sunshine is a biographical drama based on the life and work of Margaret Humphreys, a social worker based in Nottingham in the mid-1980s. In 1986 she came into contact with an Australian woman trying to trace her parents, and through her investigations uncovered the Home Children programme which had been pursued by the British, Australian and Canadian governments for over a hundred years up to the 1970s. The programme was based on the notion that it was cheaper to care for orphans by sending them to Australia than it was to keep them in Britain, leading thousands to be rounded up and sent off to what they were told was a better life. Like his father's best work, Oranges and Sunshine finds Jim Loach marrying gripping and contentious political issues to very well-written character drama. This is not an Oscar-baiting film which bends over backwards to convince us that Margaret Humphreys is a saint and what she is doing is incredibly worthy. We do not have to be lectured about how important the subject matter is: its extraordinary and at times shocking nature emerges naturally and powerfully, as a result of deeply empathising with the characters. The character construction in Oranges and Sunshine is comprehensive and yet completely unforced, thanks to a wonderful screenplay by Rona Munro. Emily Watson, whom I once described as "the go-to actress for delicate, sensitive female characters", turns in another remarkable performance as Margaret Humphreys. Her character is relentless in pursuing her goal - not justice, or revenge, but catharsis for the people involved. But the film doesn't portray her in an entirely rose-tinted way; we see the effect that her selfless crusade is having, whether on her marriage, her health or her reputation. Over the course of the film, Watson's character finds her existing principles as a social worker coming into conflict with both the physical and emotional demands of her new line of work. She has spent her life trying to keep a distance between herself and her subjects, adamantly declining to share in their most personal moments. But the more her work uncovers, the more she becomes an integral part of what is unfolding, as both a spokesman of the Home Children and increasingly as their friend. In an understated and naturalistic way, the film explores how people are changed, often against their will, by their dedication towards a cause, to the point at which it becomes their life's calling. Watson is ably supported by two brilliant members of the supporting cast. Hugo Weaving as terrific as Jack, one of the first people Humphreys take on board to try and find his mother. Every time he is on screen, our heart leaps at the merest hint of a smile from underneath that huge brown beard. He is someone who has been hurt deeply in the past, and after all this time of repressing or forgetting, he genuinely wants to reach out and connect. It's a very busy performance, with lots of hand gestures and fidgeting, but it feels completely genuine. The other great performance comes from David Wenham, who worked with Watson six years ago on The Proposition. There is an obstinate air about Len, a sense of distance and denial; when we first meet him, we think that he might be some kind of government mole, attempting to infiltrate and snare Humphreys. But he emerges as someone of immense loyalty who is difficult but self-effacing. His first meeting with his mother isn't shown on screen, but his expression would lead us to think that it was as difficult as he was. Wenham's character also gets one of the most moving lines in the film. After they have taken tea with the brothers at Bin Doon (more on that later), Margaret asks him about how he feels and why he can't open up emotionally. Len replies: "I had to stop crying when I was eight. I wouldn't know how to start now." It's a beautiful line which conveys so much about the trauma of these people, whose whole identity has been called into question. Even in its most serious moments, you could call Oranges and Sunshine a tear-jerker, because it is impossible not to show emotion at the plight of these men and women. Certain sections feel like a documentary, with a montage of individuals candidly talking about their experiences with the Christian Brothers or working on farms. One man talks about being repeatedly beaten; another recounts a gruesome incident of rape; another still remembering being told that he had "a lovely singing voice", a comment which led to him being castrated. These scenes are shocking, harrowing and heart-breaking, causing us to seethe with anger at what happened but also weep for what these men went through. There are also several scenes in Oranges and Sunshine which are very frightening. On two occasions Margaret's base in Australia is attacked by masked men working for the Christian Brothers - they attempt to break into her house, throwing bricks and calling her everything under the sun. But more terrifying is the deeply uncomfortable sequence in the dining hall at Bin Doon. Margaret is taken by Len to eat with the priests, many of whom were personally involved in the abuses detailed in the film. There is a very awkward silence while Len goes to make some tea, before Margaret finally plucks up the courage to speak. When she does, it is not to condemn or make small talk: she simply asks if they are afraid of her, and if so, why? In terms of its subject matter and approach, the film is an interesting companion piece to Rabbit-Proof Fence, Philip Noyce's docudrama about the relocation and Christianisation of aborigines. Both films take very dim views of the governments involved, or at least dispute the moral reasoning behind the decisions they made. But more importantly, both films have their political analyses rooted in the emotions and extraordinary acts of ordinary people. Margaret's meetings with government officials in Oranges and Sunshine are comparable to Kenneth Branagh's scenes in Rabbit-Proof Fence; the film is attacking what these individuals stand for, but it doesn't demean them by refusing to consider or depict their human nature. The film is beautifully shot by Denson Baker, who fills the screen with lots of watery, shimmering blues to underscore both the beauty of the landscape and the inherent melancholy of the stories taking place in it. Loach's camerawork is adept and subtle, getting in close to the characters when it needs to but allowing the wide shots to breathe. The film captures the period settings very well, particularly the faded streets of 1980s Britain. And all of these visual elements are elevated by the score from Lisa Gerrard, who worked with Hans Zimmer on Gladiator. There is a further comparison here with Rabbit-Proof Fence, whose soundtrack featured Peter Gabriel and The Blind Boys of Alabama; both films bring raw yet ethereal tones to the arid landscapes of Australia. Oranges and Sunshine is an impressive and powerful debut from Jim Loach, who has inherited much of his father's gift for moving, honest and vulnerable filmmaking. Its opening section is a little slow and conventional, but after a shaky start it never misses a beat, refusing to flinch from the most difficult aspects of its subject matter. Unlike Sarah's Key, it also refuses to tip over into melodrama as the more familial elements encroach towards the end. But its biggest achievement is to convincingly and understatedly marry politics and drama together, creating a film of great quality which will break your heart.
Daniel Mumby
Super Reviewer
Oranges And Sunshine Quotes
| | |
| --- | --- |
| Vera: | We just felt whole at last. |
| | |
| --- | --- |
| Rachel: | Mum, tell them you belong to us. |
| | |
| --- | --- |
| Margaret Humphreys: | I don't like the idea of you walking around with a monster like that in your head. |
| | |
| --- | --- |
| Jack: | There's an emptiness in me. There always has been and I think that the only thing that could fill it its her--is my mother. |