Orca - The Killer Whale
(1977)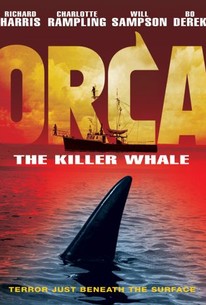 TOMATOMETER
AUDIENCE SCORE
Critic Consensus: Content to regurgitate bits of better horror movies, Orca: The Killer Whale is a soggy shark thriller with frustratingly little bite.
Orca - The Killer Whale Photos
Movie Info
Another big-budget monster movie from producer Dino de Laurentiis, Orca concerns the mutual revenge pact between an obsessive whaler (Richard Harris) and an angry killer whale, whose pregnant mate Harris killed. The whale strikes back by biting off Bo Derek's leg, so Harris and concerned biologist Charlotte Rampling follow it to frozen northern waters for the climactic showdown. Just in case you like Jaws better than Moby Dick, there's a killer shark thrown in for good measure. Ponderous, pretentious, and dull, this opportunistic disaster fittingly sank at the box office. ~ Robert Firsching, Rovi
Critic Reviews for Orca - The Killer Whale
Audience Reviews for Orca - The Killer Whale
A decent mix of Jaws and Moby Dick with a beautiful score and unsettling scenes of animal cruelty, about a miserable, ignorant whaler driven to madness and forced to understand the full agony of an unstoppable beast consumed with a furious desire for revenge.
Carlos Magalhães
Super Reviewer
After the release of Jaws, many studios tried to cash in on the success of the film, thus a new genre was born, the nature gone wild genre. Orca is yet another one of these Jaws Rip-offs, instead it has a killer whale instead of a great white shark, and it's a killer whale that terrorizes. What separates the film from Jaws is that the whale has a motive and only seeks revenge on one person instead of creating all out carnage and terror like the shark from Spielberg's classic. This is a fairly underrated film that I quite enjoyed, and though it is nothing original, there is plenty to enjoy with this film. Orca is fairly underrated and it is a far better film than what you would normally think. I thought that the cast was quite good and Richard Harris did a great job in his role. The weak aspects of the film are that it looks dated and it could have been improved upon. Some parts just didn't seem to work and there could have been a bit of improvement as well. However this is a fun creature feature that is sure to delight fans of the nature gone wild genre and for a Jaws clone, it works due to the fact that the filmmakers were able to create something different with the all too familiar material. If you love this genre of horror, you should give this underrated gem a shot, with a good cast and interesting story, Orca is a film that is a worthy addition to the genre even if it's going for the Jaws angle. Orca has its fair share of imperfection, but is far from being an awful horror film. Give the film a shot if you love creature feature and be prepared for some mindless entertainment value that is effective constructed to induce fear in the viewer.
Orca it's, unfortunately, remember like just another Jaws' rip offs. When actually, Michael Anderson's horror present a story and the title character with humanly, different that Spielberg's blockbuster summer classic. We can see this went start to witness, not a meaningless killing by a sea creature -- the audience already saw this in Piranha, Jaws, it's sequels and others horrors natural genre -- Orca bring two obsessives that want mutual revenge. The whaler, Capitan Nolan (Richard Harris), kill a pregnant whale, the result is Nolan's regret, that empathises with the mate of the dead whale because he also lost his wife and unborn child in a car accident, and the male killer whale hate. Trying to seek revenge, the Orca, chase and attack crew members in the Capitan's ship. Until coming to the face to face, maybe "man to man'"duel. Orca it's a beautiful story about man against nature, violence which cause violence and ignorance. This, for me, make Dino de Laurentiis' production a real cult classic better and more remarkable and shocking that Jaws. Fresh.
Lucas Martins
Super Reviewer
Orca - The Killer Whale Quotes
| | |
| --- | --- |
| Nolan: | the Ancient Romans called him Orca orinus latin word the bringer of death. he without changlle the most powerful animal on the globe the Killer whale. Orca has 48 teeth set two pressive rows |
| Nolan: | The Ancient Romans called him Orca orinus latin word the bringer of death. He without changlle the most powerful animal on the globe the Killer whale. Orca has 48 teeth set two pressive rows. |