Ordinary People
(1980)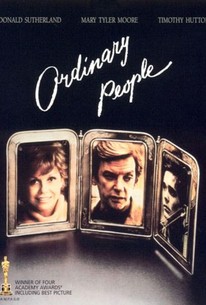 Movie Info
In this film, teenager Timothy Hutton lives under a cloud of guilt after his brother drowns while trying to rescue the suicide-prone Hutton. Despite intensive therapy sessions, Hutton can't shake the belief that he should have died instead of his brother; nor do his preoccupied parents offer much solace.
Critic Reviews for Ordinary People
Audience Reviews for Ordinary People
½
The greatest discoveries are internal ones, and this intelligent script portrays the inner adventures of a young man named Conrad and the people important to him. We quickly learn the family lost their oldest son, but we don't know how. Only Conrad can tell us and that's unlikely since he was recently released from the hospital after trying to end his own life. Over the course of the film, the skill of unprejudiced listening is introduced, treasured, and honed. Director Redford practices what the story preaches, allowing us to sit in silences with the characters and listen to the truths - something perhaps too risky for modern movies.
Matthew Slaven
Super Reviewer
Deeply involving family drama, wealthy in emotion, honesty and vigor. Every step of the way it successfully grabs your attention, yet never once going too far or undermining its realism. The tears, the tantrums, the frustrations and breakdowns - all of it acted out in a riveting display of first-rate performances. Everyone in the cast gives it their all, but the real stand-out here is Timothy Hutton. His portrayal of a psychologically distressed teenager, dealing with the loss of his brother and other family-related problems, is beyond fantastic. As can be said for the technical aspects of the film as well. Sublime directing and flawless editing, adds that little extra touch that took this from being a good film, to a great one. Now I can't say I'm much on the overall aestethics, what with all the ghastly 80's perms and questionable fashion style. But considering that's the only thing that bothered me somewhat, shows just what a truly outstanding piece of cinema this really his. A movie about letting go and facing your inner demons, that even after 30 years since its making, still holds incredible emotional value. Truly a must-see, for anyone who has ever suffered through some dark chapters in their life. Because this may very well help your healing process and make you look at things more objectively. At least it did for me, as I could relate to some of its subject matters on a personal level. In that sense, this is not so much a movie, as it is a rare and timeless instrument for moving on and cutting your losses. A larger-than-life motion picture, that gave me so much more than just two hours away from boredom.
I found this portrait of a family crumbling apart in the wake of tragedy to be meerely really good instead of excellent or classic. Maybe I've just seen this type of thing enough to where it really has to be something to stand out...and this film didn't do that for me. Maybe it's because I'm still mad it stoel the Oscar from Raging Bull, and film that truly did deserve it without question. Regardless of all that, this is a pretty good film, although it's not one I'd want to watch all the time. Maybe it's because the characters seemed to emotionally (and otherwise) detached, and it's hard to really feel for them a much as I should have. I'm no cold hearted bastard, but it was a tad difficult for me to completely care. The performances are really what make the film worthwhile though. Even if the characters are cold and distant, and it's hard to root for them, that is to the credit of the people playing them...very nice, warm, and colorful people. Hutton is especially really good, as is Moore, whom really broke type for this movie in a performance that is still probably her most dramatic. Any real faults with this movie could be chalked up to it being Redford's directorial debut, although that's not much of an excuse considering the number of years he spent in the business before deciding to direct. Ok, I'm rambling. Enough of that. You should see this. It offers a decent portrait of a family who are not as ordinary as they try to be, even if it hasn't totally held up overall.
Chris Weber
Super Reviewer
Ordinary People Quotes
| | |
| --- | --- |
| Conrad: | Giver her [his mother] the goddamn camera! |
| | |
| --- | --- |
| Dr. Berger: | Forget how it looks; how does it feel? |