Ordinary Sinner
(2002)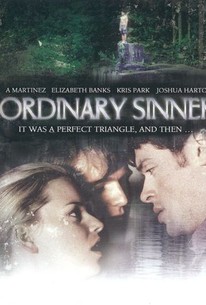 Movie Info
A young man struggles to sort out his feelings and his future as a wave of intolerance sweeps through a college town in this drama. Peter Thompson (Brendan P. Hines) was a student at a seminary studying to be an Episcopalian minister, until a tragic incident involving another student caused him to question his faith and his calling. Peter moves to a college town in Vermont, where he gets a job in a pizza joint run by Mike (Peter Onorati), and reconnects with Father Ed (A. Martinez), a gruff but caring streetwise priest who had been Peter's mentor. Peter also renews his friendship with a buddy from school, Alex (Kris Park), who introduces Peter to his good friend Rachel (Elizabeth Banks). Rachel is quite attracted to Peter, and before long she's deprived him of his virginity. While Peter tries to sort out the new changes in his life, a shocking gay bashing incident soon polarizes the town, and Father Ed steps forward to publicly announce that he's a homosexual -- and Mike is his lover. As tensions between anti-gay extremists and pro-gay activists increase, the murder of a gay man brings matters to a boil, and forces Peter, Rachel, and Alex to come to terms with their identities as well as their pasts.
Critic Reviews for Ordinary Sinner
Audience Reviews for Ordinary Sinner
A superb, slightly over complex film about sexuality in various forms, the nature of truth, and the attempts people make, or don't make, to reconcile their own beliefs (moral and religious) in the face of adversity. Ordinary Sinner cleverly plays with viewers expectations, particularly in terms of character development; the various twists succeed thanks to exceptionally good casting in both lead and supporting roles, although the convoluted structure occasionally confuses things. Brendan Hines, Elizabeth Banks and Kris Park are all exceptional as the three friends. Over the course of the film their relationships are tried and tested as it appears events unfold around them - but they are intertwined in them in ways they don't all realize. Especially good is Hines, who gives a deceptively simple performance that makes his emotions easy to read, which in this case is important since things mostly take place from his POV. There's very good support from A Martinez and Jesse Tyler Ferguson (who I recognized from the cancelled sitcom The Class). Ordinary Sinner deserves to reach a larger audience as I'm sure it would resonate with many people (it only makes me more happy that I'm an athiest) - sadly, at time of writing, I'm only one of two people on Flixster who have rated the film, and the first person to write a review.
Daniel Parsons
Super Reviewer
Ordinary Sinner Quotes
There are no approved quotes yet for this movie.