Living Hell
(2008)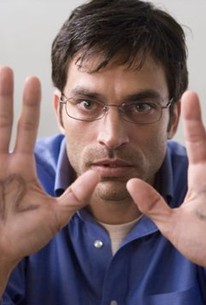 AUDIENCE SCORE
Critic Consensus: No consensus yet.
Movie Info
A schoolteacher joins forces with a hazardous-material specialist to thwart a malicious creature that subsists on light and energy. Johnathon Schaech, Erica Leerhsen. Written and directed by Richard Jefferies.
Critic Reviews for Living Hell
There are no critic reviews yet for Living Hell. Keep checking Rotten Tomatoes for updates!
Audience Reviews for Living Hell
½
Gah... When awful B-Movies take themselves seriously... There's a couple of positive points sure. Johnathin Schaech (The Washingtonians, Prom Night [2008], Quarantine, Fear Itself: The Circle, Laid to Rest) in the lead has done some pretty cool stuff, Erica Leerhsen (above - Wrong Turn 2: Dead End, The Texas Chainsaw Massacre [2003], Book of Shadows: Blair WItch 2) has too, and Terence Jay (Green Street Hooligans, Buried Alive) is always value for money. None of the actors were appalling, but these 3 stood out the most, and they didn't stand out all that much. It's a pretty cool premise, though also one of the least original. Long ago military makes a secret virus/organism. Years later stupid guys who won't listen 'cause they're all big and tough let it out near a small, rural U.S. town, the main characters need to find a way to stop the army nuking the place and making everything worse. Unfortunately when you get shafted with a low budget there's only so much you can do with it, and in plenty of instances the CGI suffers massively for it. But I mean come on, with a budget of $4,500,000 I'd think there could have been a liiiittle more effort put in. For the most part it's okay-ish, but there's a couple of scenes that are disturbingly terrible. Living Hell lacks anything that can define it as worth watching any more so than the thousands of other dodgy B-Movie horrors made with little care out there. But if that's what you're into, may as well give it spin. 32% -Gimly
½
I sorta liked it. It's got an awesome story, an some pretty descent acting if you ask me. The antagonist was the main thaing that I love about this film, though. I loved it!
Jacob Palacio
Super Reviewer
Dead Angel
Super Reviewer
Living Hell Quotes
There are no approved quotes yet for this movie.