Orgazmo
(1998)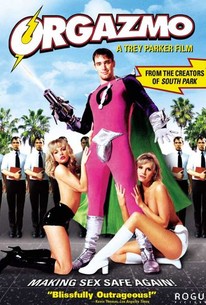 TOMATOMETER
AUDIENCE SCORE
Critic Consensus: More juvenile than provocative, Orgazmo may have enough good-natured raunch to satisfy writer-director Trey Parker's fans, but its satire is too soft to compete with the South Park co-creator's best work.
Movie Info
"South Park" creator Trey Parker's film (which was created before South Park's success) centers on Mormon missionary Joe Young and his unusual entry into the pornographic movie industry
News & Interviews for Orgazmo
Critic Reviews for Orgazmo
Audience Reviews for Orgazmo
½
The first large scale Hollywood film that Trey Parker and partner Matt Stone undertook, this film has all the musings of a parody, and yet all the intelligence of a teenaged boy. Not that that isn't entertaining, valued, and hysterical at times. If you aren't aware this duo remains the creative minds behind the cartoon show "South Park," but they have also made a lot of feature length films. This is an early film so it's not put together as well as "BASEketball" or "South Park: Bigger, Longer, and Uncut." Still, it has a lot of memorable and quotable moments that really make it a great comedy. That's partially because the main character is so earnest and pure, even in the midst of making a porn film. Lead character Joe Young (Parker) is obviously named for Mormon faith's founder Joseph Smith, and throughout the film he stays as moral as he believes Smith was. He does missionary work in Los Angeles where he meets seedy porn director Maxxx Orbinson (Jacobs) and begins work as an erotic superhero named Orgazmo. Joe just needs some money so he can marry his longtime girlfriend Lisa (Lynne) but the film actually becomes a mainstream hit that makes more money than almost all other films. The rest of the film involves Joe trying to keep it from Lisa and shake off Maxxx's crude ploys to reel him in. It's not the over-the-top film most of its viewers will probably be expecting, because it stays a bit understated. This is surprising since the film scored an NC-17 rating from the MPAA, but that's probably because of the references to orgasms more than the actual content. There isn't much of any nudity, and the jokes don't ever tread into gross-out territory. It's a very likable movie, because it has some absurd moments and Zucker brother like stabs here and there. This is one of their better and solid live action comedy films.
Spencer S.
Super Reviewer
Trey Parker's first full length feature film is a one joke nightmare with jokes that so unimpressive and laugh free that Orgazmo could be recommended as a cure for insomnia. This film a total mess from start to finish, and really isn't funny like Trey Parker's later films such as South Park: Bigger, Longer and Uncut, and Team America: World Police. Orgazmo is a poorly written film that isn't funny. The film relies on one joke the whole film, and I simply can't believe that a comedy written by Trey Parker would be also one of the worst. But it is, but this was made way back when they first started out. The comedic delivery of Trey Parker's and Matt stone's has become more precise and funnier over the years. Orgazmo is a sloppy comedic outing that is poorly written, poorly written and poorly acted. Watching this, I was much looking forward to the ending credits. If you love Trey Parker and Matt Stone's work on South Park and are looking for something different, well this isn't it. Orgazmo is a poor comedy with one laugh throughout the entire film, and the film is poorly done. I hated this film, and I was surprised that Trey Parker and Matt Stone made this. Usually they're funny, but with this one, they scored a mediocre, awful comedy that doesn't deliver and is more boring and stupid than anything I've seen in quite some time. If you're looking for a good comedy, Orgazmo isn't the one. This an awful film that I can't recommend.
½
Man, was there ever a broad target that Matt Stone and Trey Parker DIDN'T go after?
Drew Smith
Super Reviewer
Orgazmo Quotes
| | |
| --- | --- |
| Rodgers: | "I'm Gonna Whoop Your Ass, and then Boink your Girlfriend!" |
| Rodgers: | I'm gonna whoop your ass, and then boink your girlfriend! |