Orlando
(1993)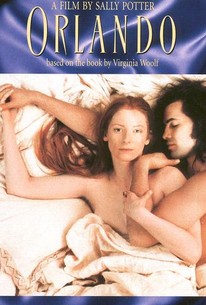 TOMATOMETER
AUDIENCE SCORE
Critic Consensus: Orlando can't match its visual delights with equally hefty narrative -- but it's so much fun to watch that it doesn't need to.
Movie Info
Independent filmmaker Sally Potter's gender-bending epic, which views four centuries of sexual politics through the eyes of a sex-switching main character, is based on the 1928 novel by Virginia Woolf. The androgynous title character is played with delicate quietude by Tilda Swinton. The story begins during the reign of the aging Queen Elizabeth I (Quentin Crisp, in a droll turn recalling his The Naked Civil Servant). Queen Elizabeth takes a shine to the attractive young Orlando and seeks out his sexual favors. In return, Elizabeth grants him a large estate, commanding him, "Do not fade, do not wither, do not grow old." Orlando takes the queen at her word and doesn't. When Elizabeth dies, Orlando becomes attracted to Sasha (Charlotte Valandrey), the daughter of a Russian diplomat, but she rebuffs his advances. Crushed, Orlando accepts an ambassadorship to Constantinople. After witnessing the killing of a man in battle, Orlando undergoes a change of sex, becoming a woman and returning to England, where she hobnobs with 18th-century geniuses like Jonathan Swift, Alexander Pope, and John Addison. Walking through a garden labyrinth, the time frame shifts to the 19th century, and Orlando falls in love with a handsome American (Billy Zane). Now in the 20th century, Orlando gives birth to his child and continues on.
News & Interviews for Orlando
Critic Reviews for Orlando
Audience Reviews for Orlando
½
Simply put one of the best movies I have ever seen. The cast is amazing and deliver in their performances, the stunning visuals and beautiful music combine to create a dreamy atmosphere through which S. Potter uses Orlando as a medium to make subtle and elegant commentaries about life, the human condition and the struggle of the sexes to understand each other when they are basically two aspects of the same coin. As opposed to some of the other reviewers here I did not find the movie slow or boring at any time. Nor is it just about Orlando; there are multiple layers. It flows simply and quietly but with great intensity and an underlying irony at every moment. This film must be Potter's masterpiece.
Cassandra Maples
Super Reviewer
½
A young nobleman in the seventeenth century makes a promise to his Queen to never grow old, living on through to the twentieth after undergoing the transformation to womanhood. Based on a story by Virginian Woolf, Orlando is an ambitious attempt to portray gender issues spanning the centuries. Tilda Swinton shares the limelight with some wonderful costumes and locations, appearing just at home in doublet and hoes as a corset and bustle and her central performance is arresting. It's a pity that the rest of the cast don't really get a look in, as the story is represented as a series of all-too-short vignettes where some initially intriguing supporting characters appear briefly but are gone again before there is any chance to explore them or relationship with Orlando. This is a real shame because some of the scenes, especially concerning her receiving the kind of attitudes that she was herself guilty of having when she was a man, had real potential. This is doubly true of Zane's character who is the other side of the coin of Orlando's transformation. It is sometimes guilty of being too "arty" for its own good, the gimmicky casting of Quentin Crisp as Elizabeth I (although it could be argued that he is the perfect choice to play an old queen...) and the appearance of Jimmy Somerville as a golden angel overstep the boundary to campness. It's certainly an interesting and beautifully realised film visually, but Benjamin Button did something similar with a lot more heart.
½
A true forgotten classic. Watching Orlando is heartbreaking because you know they're never going to make another film as bizarre or beautiful as this ever again. Modern Hollywood just wouldn't allow something involving an androgynous immortal, inexplicable gender changes, the breaking of the fourth wall, and a bizarrely evangelical ending to be distributed, let alone created for 5 million dollars. This is art. It doesn't always make sense, but trying to parse it and giving it personal meaning makes the experience completely worthwhile. Kudos to Sally Potter for creating such an uncompromising adaptation of a Virginia Woolf novel. Kudos to Tilda Swinton, who I fall more in love with every day and who has one of the most exciting and diverse filmographies of any living performer today. Kudos to all involved with this striking, unique, powerful innovation.
Drew Smith
Super Reviewer
Orlando Quotes
There are no approved quotes yet for this movie.