Orphans of the Storm
(1921)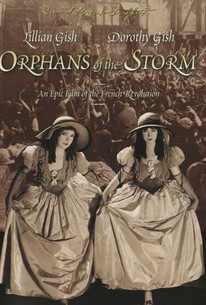 Orphans of the Storm Photos
Movie Info
In this film, Henriette brings her blind sister Louise to Paris, in search of a surgeon who might be able to restore her sister's sight. Henriette is kidnapped by a lascivious nobleman, leaving Louise to wander helplessly about until she too is "stolen" by a family of beggars.
Critic Reviews for Orphans of the Storm
Audience Reviews for Orphans of the Storm
½
A fantastic, yet much too long, melodrama from the famous silent director D.W. Griffith. Forget about Birth of a Nation, this is the film to see. It stars the fabulous Gish sisters and they just melt your heart. The story is brilliant, the movie doesn't even look very old, it has heart and drama. I recommend it.
½
Story takes place in France before and after the Revolution. Louise (Dorothy Gish) and Henriette (Lillian Gish) are brought up together but are not really sisters--Louise was left on church steps as a baby and Henriette's parents took her in. Both are orphaned when their parents die and Louise is struck blind. Henriette takes her to Paris in hope of finding a cure. There they are separated--Louise is forced to work with villainous beggars and Henriette falls in love with Chevalier de Vaudrey (drop dead handsome Joseph Schildkraut). The story is wildly implausible with some twists that had me smirking. It's also overlong and VERY melodramatic...but it still works. It was made on a large scale with beautiful settings, costumes and a cast of hundreds. D.W. Griffith did a wonderful job of directing--especially when the peasants revolt and overthrow the government. I usually hate historical movies but I loved this one! The cast overacts wildly (especially Monte Blue as Danton) except for Schildkraut who underplays--and it works. Throroughly engrossing and highly recommended
Cassandra Maples
Super Reviewer
Orphans of the Storm Quotes
There are no approved quotes yet for this movie.