Orwell Rolls in His Grave
(2003)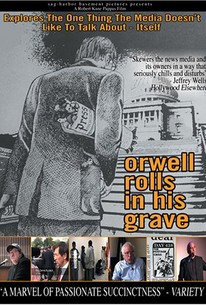 Orwell Rolls in His Grave Photos
Movie Info
Directed by Robert Kane Pappas, Orwell Rolls in His Grave questions whether the bleak, feverishly regulated world of author George Orwell's 1984 is no longer a dire fictional account of government power gone wrong but a creeping reality of recent American media trends. The film focuses on the media's least covered topic -- itself -- in an effort to trace the process by which newsworthy stories are either dismissed entirely or distorted into something more politically suitable for the heads of various media conglomerates. It also studies how influential politicos became responsible for an industry that was largely created in order to keep political abuse in check. Among the interviewees include legal scholar and former L.A. prosecutor Vincent Bugliosi, film director and author Michael Moore, and Danny Schechter, a former producer for ABC and CNN. Pappas also covers the expansion of the news media and examines whether the onset of competitive 24-hour news stations has actually led to a nationally less informed public.
Critic Reviews for Orwell Rolls in His Grave
Audience Reviews for Orwell Rolls in His Grave
½
This documentary written and directed by Robert Kane Pappas is a relevant one for the modern society because covers topics including the Telecommunications Act of 1996, concentration of media ownership, political corruption, Federal Communications Commission (FCC), the controversy over the US presidential election of 2000 (particularly in Florida with Bush v. Gore), and the October surprise conspiracy theory. On the other hand, I can see the similarities with all other systems of control in China, Russia, Middle East and even Europe. It seems that government quickly follow up each other when they have to take freedom of speech from their citizens, regardless the political views. I cannot say that I didn't like the documentary: it was relevant, had trustworthy experts who know their subjects extremely well, it had facts, it had plenty of interviews... but somehow it was too dry and lecturing for my taste. I am a lecturer myself, and the most important thing is to involve the audience into the lecture! This documentary didn't do that for me - I was always aware that this is presented information to provide me with truth which should alter my views on democracy in the United States. No need for that in my case, because I was an owner of a radio station in the late 80's and I know a thing or two about the subject, and all I wanted is to enjoy the presentation. Well, that was hard if you are just lining up the presenters and facts. I was thinking to show this to my students, but I will edit parts of it before doing that, because in this form is a little bit too hard to "chew" the complicated subject of taking a democracy from the "demos" to the 1% of the US population! George Orwel's "1984" seems like a paradise compared with today's laws in the "Western Freedom" countries, with US as a leader. Recommended for the information and revelation, not artistic value!
This is a doc. everyone should see. The content is excellent - you want to scream and wonder why no one knows this is going on, but it's obviously because the media doesn't want you to!
Sarah Prisbylla
Super Reviewer
Orwell Rolls in His Grave Quotes
There are no approved quotes yet for this movie.