Osmosis Jones
(2001)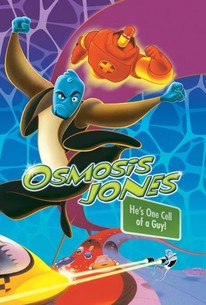 Movie Info
Peter Farrelly and Bobby Farrelly, the impish impresarios of gross-out comedy, take their body function-inspired humor to new extremes in this mixture of live action and animation. Bill Murray stars as Frank, a zoo worker suffering from the effects of an unknown malady he contracted after eating an egg contaminated with simian saliva. Unknown to Frank, the inside of his body is actually a city (the City of Frank) teeming with cellular life, where the mysterious illness he's fighting is an invading enemy that must be defeated at all costs. It's up to Osmosis Jones (voice of Chris Rock), a white blood cell cop, and Drix (voice of David Hyde Pierce), a rookie over-the-counter medication, to hunt down and stop a lethal virus (Laurence Fishburne) who's got an inferiority complex. Along the way, the partners visit Frank's runny nostrils (Booger Dam) and a bar called, appropriately enough, the Zit. Osmosis Jones costars Molly Shannon and Chris Elliott, and features the vocal talents of William Shatner, producer Joel Silver, and singer Brandy Norwood. ~ Karl Williams, Rovi
Critic Reviews for Osmosis Jones
Audience Reviews for Osmosis Jones
Osmosis Jones follows the story of a man named Frank (Bill Murray) who is invaded by a harmful disease under the name of Thrax (Laurence Fishburne) and its up to two cops, one former white blood cell cop named Jones (Chris Rock) And a new weapon to the force under the name Drix (David Hyde Pierce.) Osmosis Jones is one of those movies that tries to do the thing that Warner Bros was doing with their animation during the late 90s and early 2000s, mixing both the 2-D animation with the live action animated world such as in Space Jam or Looney Tunes Back in Action. This movie though takes a little bit of a bigger, or should I say, smaller approach. This movie rather than being cartoon characters that are full sized and to scale, these cartoon characters are just mere and small and can't be seen by the human eye. The look of the film though is very stylized and gritty, not the human world, but the inside of Frank. The inside of this mans body is beautifully animated and it really does look like what a human body would look like if a utopia was inside of a human. The 3-D animation also blends very well into the 2-D animation and the interesting ideas done with this animation is interesting. For example, when something catches fire, say from Thrax, microscopic little chains appear in the flames to prove the smallness of the flame. I will definitely say this is warner bros animation taking a risk in terms of the darkness and gruesomeness of a lot of scenes in this movie but I won't really spoil those moments for those who haven't seen it. Now onto the comedy. Really this film is just a buddy cop movie in animated and microscopic form, the two who are complete opposites are put together in a situation that wouldn't really demand it but the two end up starting to like each other and start bonding as friends. Same as in all other buddy cop movies so there isn't much to interpretation in seeing something different so its really all the same jokes you'd see in a normal buddy cop movie just animated. Now there are a few good comedic moments mainly involving Drix at this club called "The Zit" (Take a guess why its called that.) And the running gag of freezing this small little germ constantly by accident when they're trying to get information out of him. But overall the comedy really falls flat in terms of really being anything different from any other generic buddy cop movie. The main thing that really saves this movie is the acting and voice acting. This movie has some shockingly good voice acting and live acting from Bill Murray and the people he interacts with. Chris rock is decent as Jones and David HYde Pierce does a good job as Drix, but the two performances that steal the show are William Shatner as the Mayor, and Laurence Fishburne as Thrax. Shatner plays this cocky and ignorant mayor of Franks body who is trying to show that the body is in perfect shape when it really is anything but. My dad pointed out a good little similarity between him and the mayor in "Jaws" and the similarity is almost uncanny. The two are pompous and ignorant, and don't care if someone gets hurt they just care about business and publicity and Shatner does a phenomenally good job in this role. But the role that really steals the whole film is Laurence Fishburne as Thrax, MY GOD!!! Fishburne does a phenomenal job as this scarlet virus and he is the main reason just to see this movie. Being able to burn literally anything with the touch of a finger, Thrax has probably one of the most interesting designs i've seen in an animated film. Fishburne also gives Thrax this sense of cool and slyness to him but he can switch from calm and sinister to being just pure off the wall crazy and hate filled, and this is shown in full bloom in the films climax. I also might as well talk about the live action acting. While the acting isn't spectacular in the live action world, Murray does a good job as Frank and works off the daughter character very well enough to keep the films pace going well. Overall Osmosis Jones may not be the absolute best animated film, but the animation is good, and the film is lead by great voice acting to keep the film going at a steady pace.
Michael Edwards
Super Reviewer
½
Osmosis: Yo! You see this badge? You see this gun? You see this gooey, white saccus membranous 'round my personhood?... Well, you dealin' with a white blood cell here! I should be out in the veins, fighting disease, not in the mouth on tartar control.  "He's one cell of a guy." Osmosis Jones is a a clever and unique film from the Farrelly brothers. I still don't really like it though. Yeah, the premise is really cool, but the overall execution of that premise is not. The movie turns into a one joke comedy after the initial awesomeness of the first 20 minutes or so. It didn't seem like the Farrelly's knew how to keep this story flowing and the audience caring. They let an extremely smart and cool idea go wasted because of their need to incorporate as many bodily function, fungus and zit jokes as they could into a an hour and a half running time.  Osmosis is a white blood cell in the body of Frank. Frank is an unhealthy, overweight zookeeper, who is raising his young daughter all by himself after his wife has passed away. The movie follows two story lines. There's the live action storyline with the family dynamics of the father-daughter relationship. Then there's an animated storyline going on inside Frank's body. A virus has just come into his body with the intentions of killing Frank. It's up to Osmosis to take the virus down. He also has to fight all the normal problems that affect cops in cop dramas, such as a mistake a long time ago and a boss that doesn't really believe in him. I like the initial setup for this movie, but it just never gets where it needs to be. The film has a pretty incredible cast. Bill Murray plays Frank, and although it isn't one of his more memorable roles, it's still Bill Murray. Then there's the voice cast with people like Chris Rock, Laurence Fishburne, William Shatner and David Hyde Pierce. All the voice actors really sell their performances and sound perfect for their particular character. This is most notable with Fishburne's role as Thrax, the killer virus. He gives a great voice performance and is perfect for the role. Along with the great cast and the cool premise the movie has some great references throughout. At the end, there are some great uses of Titanic's final scenes. Then there's a band that plays at one point in the movie called Kidney Rock, that has Kid Rock and Joe C singing for it. All these elements should add up to something great and the disappointing part of it is that it doesn't. The film had potential, but it still ended up being a misfire for the Farrelly brothers.
Melvin White
Super Reviewer
Clever, funny, a little too gross, but still is a pretty good animated film, not Bill Murrays funniest role though.
Jim Careter
Super Reviewer
Osmosis Jones Quotes
| | |
| --- | --- |
| Osmosis Jones: | We were so poor, we lived off peanut butter and cellulite sandwiches! You ever try to blow-dry your hair with a fart? |
| Drix: | OK, I get it. You were poor. |
| Osmosis Jones: | You bet I was! You ever try to make a snowman out of toilet paper cling-ons? Now that's poor! |
| Drix: | OK, please, you're going to make me vomit! |
| Osmosis Jones: | Vomit? We couldn't afford no vomit; that's for rich folk. |
| Drix: | Excuse me while I wipe my eyes. |
| Osmosis Jones: | Oh, you wanna talk about wiping? |
| The Mayor: | NO! |