OSS 117: Rio ne répond plus (Lost in Rio)
(2010)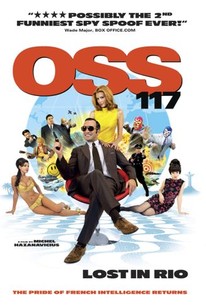 TOMATOMETER
AUDIENCE SCORE
Critic Consensus: Led by another appealing performance from Jean Dujardin, this sequel offers more absurdly fun action -- and more politically incorrect humor -- for fans of '60s spy films.
OSS 117: Rio ne répond plus (Lost in Rio) Photos
Movie Info
As adapted from Jean Bruce's endless series of novels, the French series of OSS 117 adventure comedies showcase the globetrotting exploits of Hubert Bonisseur de la Bath (aka OSS 117), a Derek Flint-like super-spy. This outing finds OSS 117 shuttled off to Rio de Janeiro, where his assignment involves retrieving microfilm that lists French Nazi collaborators during World War II. He then teams up with the seductive lieutenant Dolores (Louise Monot) to track down a gang of escaped Nazis.
News & Interviews for OSS 117: Rio ne répond plus (Lost in Rio)
Critic Reviews for OSS 117: Rio ne répond plus (Lost in Rio)
Audience Reviews for OSS 117: Rio ne répond plus (Lost in Rio)
½
The best thing about this French comedy is its delicious '60s visuals with all the clumsy zooms and split-screens, and while the laughs are not so plentiful, the story has many inspired nonsensical moments in this fun spoof on the 007 series and spy movies in general.
Carlos Magalhães
Super Reviewer
This pre-dates the fame of Jean Dujardin in America, but was a breakout role for the comedy actor from France. In the sixties and seventies there were a string of French spy films with a male protagonist named OSS 117, who is now featured in this second film of the new series as a complete clod in comparison. In this film, such as Peter Sellers turn as James Bond in Casino Royale, OSS 117 is reworked as slightly bumbling. More so than that he is misogynistic, racist, and playfully arrogant and ignorant. Unlike a low budget parody film this was actually shot in relatively beautiful locations, with actual cinematography and principal photography to boot. It utilizes many forms of split screen, and is a finesse of French cinema, not only as an ode but as an actual spy film. What also sets it apart from the crass American counterparts such as Spy Hard and The Naked Gun, is that this film actually holds more than comedy, but an air of sophistication and restraint. Better than that, while the usual spy parodies have a makeshift cast of people who are truly enthralled by this uncouth person, this film lets the Israeli Mossad romantic lead hold her own amongst the male spies. She outright points out his faults and tells him about them in as mean a way as possible. Dujardin is in his own league here, as he maneuvers between likable and downright repulsive. His scenes are usually full of bandying about words that are intentionally offensive, while also being goofy and lovable in some respects. The villains are unbelievable, the storyline is epic yet ridiculous, and the shots of the film really resonant and bewilder with how amazing they are for the content. Beside that there is actual humor that relates to American sensibilities and somehow mimics the parody films of Leslie Nielsen. The only reason I didn't fully love it is that it doesn't always translate well, and my comedic choices are usually not as suave and as witty as this, so for myself it was a different kind of experience. Still, this is a delight and is worth our attention.
Spencer S.
Super Reviewer
Jean Dujardin is absolutely perfect in the role of the charming, quintessential French spy of the 1960s, OSS 117. Lost in Rio is slightly weaker in wit than its predecessor Cario: Nest of Spies, but I suspect that has much to do with the French-language jokes not translating to English so well.
Ross Collins
Super Reviewer
OSS 117: Rio ne répond plus (Lost in Rio) Quotes
There are no approved quotes yet for this movie.