Otis
(2008)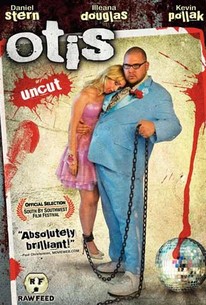 AUDIENCE SCORE
Critic Consensus: No consensus yet.
Movie Info
Daniel Stern, Ileana Douglas, Kevin Pollak, and Jere Burns headline director Tony Krantz's black comedy detailing the meltdown of the typical nuclear family as they attempt to rescue their little princess from a notorious serial killer. Otis Broth (Bostin Christopher) needs a date for the prom, and Riley Lawson (Ashley Johnson) is just the type of girl he's been searching for. Unfortunately for Riley, Otis has a rather sinister method of charming the fairer sex - it's got something to do with power tools and other assorted sharp objects. When the authorities fail to deliver in their promise to bring Riley home unharmed and the young girl miraculously manages to break free of Otis' dungeon-like cellar, the Lawson's decide that the family that slays together stays together and sets out to seek vengeance against the hulking serial killer on their own terms.
Audience Reviews for Otis
What a strange, strange movie. It's made by people who obviously love horror and they have fun playing with it. As a result, I really liked watching them do it. I found the story utterly unpredictable, and it veered in odd directions for a horror movie. The comedy in this movie was very dark, but not so much so that it wasn't there. One of the strange things about this film is the lack of clear distinctions between the heroes and villains: Otis has real innocence to him, and Riley's parents have a real mean streak (that manifests in very funny ways). I also love the cocky detective who thinks he's the main character in his own cop drama, instead of an inept agent of the forces of Chaos. The more I tell you about this movie, the more I'd run the risk of giving too much away. I really liked this, and I really regret not buying it when I had the chance. Grrr!
Emily Armstrong
Super Reviewer
½
C'mon... not funny enough, not gorey enough, not exciting enough... Otis is a big fat waste of what could've been a classic, but is now probably forgotten or never heard about. I don't remember it being on Pay-Per-View, and now it's getting a double-feature Blu-ray release with Doctor Giggles, another misunderstood and weak horror flick. I really wanted to like Otis, from its trailer and cover artwork, but it bored me. I liked the retro music they used; Devo's "Gut Feeling" fit the girl-escape-attempt scene perfectly. The turnaround of the plot I didn't see coming, but the painful revenge scenes had violence only implied. It can't compete with others like Saw, Hostel, Mother's Day, Bad Ronald, Juno, etc. -- which it wanted so badly to be. Otis was a cruel and stupid kidnapper - the scenes of him trying to recreate his high school football dreams went on too long.
Lafe Fredbjornson
Super Reviewer
A dark comedy with the emphasis on "dark". This is a film that starts out violent and brutal and then tries to make you laugh. The underlying premise is "the lighter side of abduction, rape and murder" and, not surprisingly, it just doesn't work.
Randy Tippy
Super Reviewer
Otis Quotes
There are no approved quotes yet for this movie.