Ouija
(2014)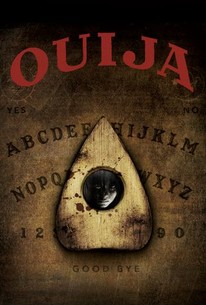 Movie Info
In Ouija, a group of friends must confront their most terrifying fears when they awaken the dark powers of an ancient spirit board. Stiles White directs the supernatural thriller that is produced by Platinum Dunes partners Michael Bay, Brad Fuller and Andrew Form (The Purge, The Texas Chainsaw Massacre, Friday the 13th) alongside Blumhouse Productions' Jason Blum (Paranormal Activity and Insidious series, The Purge), Bennett Schneir (Battleship) and Hasbro. (c) Universal
News & Interviews for Ouija
Audience Reviews for Ouija
In October of 2014, Ouija was unleashed unto the world. From a critical standpoint, it had been reviewed as one of the worst horror films in years. It ranked among many audience members top ten worst films of that year and very quickly dropped at the box office. Still, it made much more than what it cost to make, so obviously it would warrant its sequel coming soon, but lets have a look back on what spawned Ouija: Origin of Evil. While this film is admittedly bad, there are a few aspects that keep me from saying it is complete trash. Most people comment on how bad this film is as a whole, but it does attempt to tell an emotional story. Here is why the story of this film is under-appreciated, even if its execution is pretty bad. While the idea of a Ouija board has never been all that terrifying or interesting enough to me, I must say that the first ten to twenty minutes of this film had me intrigued. It was less of a horror film and more of a drama about how this board makes people commit suicide. It was a very depressing first act, but it surely played all of the right moves to keep me engaged. That being said, the film quickly spirals into a cliche-ridden story with all of the horror tropes you have come to expect. To add to that, there aren't even enough of the cliched tropes to even call this a full-fledged horror flick. It is more of a drama with horror elements, which would have worked better if the films main focus was not on a game that is meant to scare people. Although almost every character throughout this film is completely one-note, including the main protagonist, Laine, played by Olivia Cooke. Cooke does give a solid performance here, which comes as no surprise, due to the fact that I think she is a terrific actress in almost everything she is in. That being said, her character is not given enough to do, other than weep over the loss of her friend and learn more about the Ouija board. This film is a series of unanswered questions about who is really behind the words being spelled out on the board. By the end of the film you already known everything and the conclusion is about as cliche as you can get. This film is about as serious as you can get with a horror film, but it does come off as comical at times. There are shocking moments that are ruined, due to the fact that they are just too silly to take seriously once revealed. I found myself poking fun at the film rather than being genuinely terrified. Not to say that there are not a few chilling moments, but most of them are followed up by something you see coming from a mile away. This film does nothing new to try and scare its audience. Normally great camerawork in a horror film can help build tension for a viewer, but this film was shot pretty static, making everything seem clean. In the end, I admired the fact that Ouija tried to put a dramatic spin on this horror film, rather than just going all out on its horror aspects, but it was too little and it almost felt completely absent after the first act. When a film begins with promise, only to abandon its viewers halfway through, it becomes a frustrating film to watch. I see where everyone is coming from when they speak of how truly awful this film is. That being said, Ouija does have enough solid performances and intriguing set-up to say that it is not quite as bad as the critics make it out to be, but that is not saying much when looking back on the overall film. Simply put, this is a pretty bad horror film with some neat ideas.
½
There are a few good moments here and there but mostly this is a predictable stupidity full of clichés and apparently written by retards who don't care a bit if it doesn't make any sense - which can be seen from how the spirit's motives are just nonsensical and ridiculous.
Carlos Magalhães
Super Reviewer
Once again Finding Nemo is more scary and more of a thrill ride then this appalling unappealing movie!
Film Crazy
Super Reviewer