Our Blushing Brides
(1930)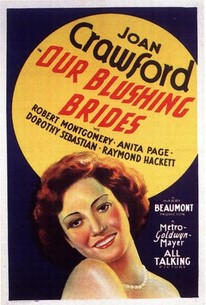 AUDIENCE SCORE
Critic Consensus: No consensus yet.
Movie Info
Having starred in Our Dancing Daughters (28) and Our Modern Maidens (30), the next logical step for Joan Crawford was Our Blushing Brides (30). Crawford is featured with her Dancing Daughters costars Dorothy Sebastian and Anita Page in this tale of three roommates trying to make good in the Big City. Crawford works as a department store mannequin, while Sebastian and Page have jobs as clerks. Robert Montgomery, son of the store's owner, marries Crawford, having failed to "score" any other way; Sebastian weds a thief (John Miljan) whom she mistakes as a millionaire; and Robert Montgomery's younger brother Raymond Hackett takes Page as his mistress, which results in her suicide after he drops her. Our Blushing Brides has plenty to blush about.
Critic Reviews for Our Blushing Brides
There are no critic reviews yet for Our Blushing Brides. Keep checking Rotten Tomatoes for updates!
Audience Reviews for Our Blushing Brides
½
From Joan's shopgirl period she looks amazing but is still relying on some silent eye popping gestures. She must have been deep in EL-O-CU-TION classes at this point so clearly is she working to enunciate ever word correctly. Even with those minor drawbacks she still radiates star quality and dominates the film. Up against her Page and Sebastian don't have a chance of really making an impact though Anita Page has an affecting final scene.
½
"our blushing brides" is a great depression version of 60s "how to marry a millionaire", featuring joan crawford_ the burgeoning supernova of mgm, her "shop girl to princessly socialite" stage. it's a story about three single dames who strive their ways to endure the great depression and their weary annoyance with the days of alarm clocks. inland girls who flew to great metropolitans dream of marrying loaded gentlemen of wealth to get rid of the drab life of tough bucks, unlike 60s comedy with marilyn manroe and lauren bacall, "our blushing brides" is a bleak melodrama of moralitistic doctrine of female virtues, easy girls who trade themselves off would have their retributions of even leaner days coming back to them, and the one dame who truly sticks to herself gets everything in the end. three friends who share the same apartment work separately in the department store as salesladies in perfume and blanket branches as well as cat-walk model who demonstrate clothes to rich women, addled with the desperation of fading and rotting in a hopless life without glamour. one girl(crawford) stays true to her principles without hooking on the upper-class gentleman who has a crush on her while the other two sink into the quick access by men's favors: one marries herself off to a man who seems to be a bit too careless with money; the other consents to be the mistress of a rich man whom she thinks she's gonna be married to...but eventually the naive dames who fancy easy success without giving much are punished. joan crawford is the one who earns the genuine love of robert montgomery by refusing his firvolous request of one-night fun in his reclused cabin as well as her headstrong repulsion against his vivacious lovemakings. just like grandma always says, gentleman would only marry nice girl who ain't easy. "our blushing brides" is great depression cinderella tale without gayety and humour like monroe's classic "how to marry a millionaire"..more realistic to a degree except its firm insistance of frigid feminine purity while its leading lady is a sexually emancipated woman by private with an aggressive drive. i suppose life ain't like movies. in a nutshell, "our blushing brides" is a highly watchable melodrama about women's mindset during great depression, and you shall see designer adrian being able to pull off the wardrobe even the subject matter is on shop girls without dough.
Veronique Kwak
Super Reviewer
Our Blushing Brides Quotes
There are no approved quotes yet for this movie.