Our Brand is Crisis
(2015)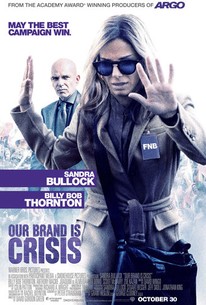 TOMATOMETER
AUDIENCE SCORE
Critic Consensus: Our Brand Is Crisis offers sporadic amusement and benefits from a talented cast, but ultimately lacks enough of a bite to add much of interest to the political satire genre.
Our Brand is Crisis Videos
Our Brand is Crisis Photos
Movie Info
Sandra Bullock stars in this political comedy drama from Warner Bros. and director David Gordon Green, and inspired by the 2005 documentary of the same name, an expose of a bungled American election campaign in South America. ~ Jason Buchanan, Rovi
News & Interviews for Our Brand is Crisis
Critic Reviews for Our Brand is Crisis
Audience Reviews for Our Brand is Crisis
Entertaining and provocative, Our Brand Is Crisis is a satirical political drama. The story follows a political strategist who's recruited to help the campaign of a Bolivian presidential candidate, and decides that in order to win they'll have to convince the people that the country is in a crisis. Featuring Sandra Bullock, Joaquim de Almeida, Billy Bob Thornton, and Zoe Kazan, the film has an impressive cast. And, the writing does a pretty good job at avoiding specific issues, focusing instead on political campaigning in general. However, the plot takes a strange turn at the end, suddenly becoming serious and moralistic. It's a little unfocused and has some storytelling issues, but Our Brand Is Crisis is still an interesting and enjoyable film.
Dann Michalski
Super Reviewer
This film was such a mixed bag I didn't even notice that it was clearly a white savior narrative. Between the shoddy humor, the weird performance from Billy Bob Thornton, and the strange ethical and moral implications of Jane's (Bullock) involvement, this is a strange mélange of weird. The story follows a disgraced prior campaign advisor who starts working against a former opponent on a campaign in Bolivia. The film's plot follows her involvement in a former president's bid for re-election. From the premise you would think this was a film about a political candidate changing his mind on big issues, and becoming a true leader. Instead the film isn't exactly sure what tone, or message, it wants to leave audiences with. It doesn't know if it wants to be a comedy, drama, or biopic. I'm sure the 2005 documentary this is based off of is much better and less concerned with being preachy. The ending is where the white savior narrative comes into play, and the film is very unsure how she even is one. A white outsider coming in, especially into Bolivia which is anti-American and has been controlled by foreign interests for decades, would not experience a huge amount of success. Overall this is a mixed film that doesn't entertain except when Bullock is being inflammatory and angry in the best way.
Spencer S.
Super Reviewer
On the surface a lighthearted, even sitcom styled, look at political campaigning. But that most of the levity is based on truth adds a sad insight into our world at large that makes for unusually important filmmaking. The effort tries to bravely smile at that unbearable sadness but cannot. Like Cassandra of old here is truth that no one will listen to. Bullock and Thornton play two sides of the same coin well enough to lean this nearly into a romance, but what a sick romance it is.
Kevin M. Williams
Super Reviewer
Our Brand is Crisis Quotes
There are no approved quotes yet for this movie.