City Girl
(1930)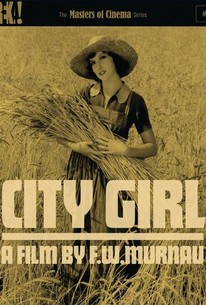 Movie Info
Director F.W. Murnau began City Girl as a silent film, hoping to match the artistic triumph of his earlier Sunrise. Murnau was frustrated by two elements: Fox's decision to hastily convert the film into a talkie, and his inability to secure the services of Sunrise star Janet Gaynor. The director was forced by the studio to substitute the pretty but untalented Mary Duncan, reportedly because she was the girlfriend of one of the Fox executives. The resulting film is a plodding drama about farmer's son Charles Farrell coming to the Big City, where he falls in love with Duncan, bringing her home to meet the folks. Farrell's dad David Torrence predicts that Duncan will be unfaithful, a prophecy which apparently comes true on a dark and stormy night. Based on Elliot Lester's play +The Mud Turtle, City Girl has a fascinating image or two to its credit, but the film is a distressingly ordinary effort for the otherwise imaginative F.W. Murnau. The 1938 20th Century-Fox film City Girl is not a remake.
Critic Reviews for City Girl
Audience Reviews for City Girl
'city girl' is kind of the inverse 'sunrise' and was a compromised project for murnau, only being released in a truncated sound version which is now lost. while i much prefer murnau's original title of 'our daily bread', there are some lovely and lyrical scenes here as impressive as anything in 'sunrise', most notably the sequence of lem and kate running through the wheatfields and the final runaway wagon race lit by a single lantern. good chemistry between the two leads and the earthier mary duncan is an interesting contrast to charles farrell's usual partner janet gaynor. it's somewhat of a miracle this full silent version has survived and there are some nice features related to the lost film '4 devils' on the disc as well
Stella Dallas
Super Reviewer
½
This F.W. Murnau melodrama starts off well, but goes sour with its archaic values. Lem is a Minnesota farm boy whose father sends him to the big city to sell their wheat harvest. The transaction is crucial to the family's solvency, and Lem is sternly warned not to settle for a lower price. During his brief trip, he falls in love with a waitress named Kate. And she falls for him. They decide to get married after spending what amounts to a few hours in each other's company. Mainly because a vending-machine fortune suggests they do. Ah well. It has been a sweet romance until now, so one would like to forgive its quaint corniness. But then Lem takes Kate home to his family, and the film's age becomes too obvious. The father is suspicious that she's a gold-digger (even though the family isn't rich), and actually hits her soon after they meet. Then the ridiculous, bumpkin farmhands hear Lem has brought back a wife who's a looker, and immediately figger one of them can steal her away if they just smile real pretty and spit-slick their hair back. Given how easily Lem won her heart, perhaps their hopes aren't so far-fetched. The plot begins drawing steady eyerolls from here, though at least Kate stands up to the father rather than backing down. The issue of the wheat price is essentially thrown out without being resolved, and the same goes for a second crisis about an incoming hail storm. And of course we know a happy ending will arrive, even if its justification is shaky. It's strange that Murnau made "City Girl" near the end of his career (and short life), following far more ambitious productions such as "Faust," "Nosferatu" and "Sunrise." It's solidly directed and, to its credit, has few of the exaggerated acting gestures found in typical silents, but Murnau doesn't really make his presence known beyond a few tracking shots -- most notably, an idyllic scene where the camera chases newlyweds Lem and Kate happily scampering through a wheat field. Such minor treats are not enough to make this film essential.
Eric Broome
Super Reviewer
City Girl Quotes
There are no approved quotes yet for this movie.