Our Dancing Daughters
(1928)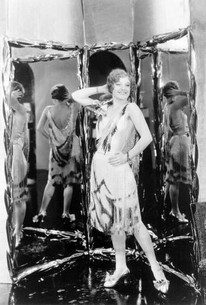 AUDIENCE SCORE
Critic Consensus: No consensus yet.
Our Dancing Daughters Photos
Movie Info
Even those who can't recall the plot of the silent Our Dancing Daughters (and there admittedly isn't much to remember) can never forget the indelible images of Joan Crawford tearing loose with one Charleston after another. Since everyone in the film is rich, the wild parties that dominate Our Dancing Daughters are played out in the biggest mansions this side of Windsor castle. Jazz-baby Crawford is actually a good girl despite her hedonistic lifestyle. She wants to marry young millionaire Johnny Mack Brown, but he is tricked into marriage by deceitful Anita Page. After drinking herself blotto at a party, Anita brags about her subterfuge, then conveniently tumbles down a long flight of stairs to her death ("Poor little rich girl" is the general consensus of opinion amongst the many servants, though few in the audience are shedding any tears). Thus, Crawford is able at last to link up with Brown, presumably to live happily ever after. Released with synchronized music and sound effects, Our Dancing Daughters manages to convey the "noise" of the Roaring '20s without sound, relying instead on inserted shots of art-deco statuary and the bubbling-over performance of Joan Crawford in the role that made her a star. Crawford was reunited with her Dancing Daughters co-stars Anita Page and Dorothy Sebastian in two follow-up films (not sequels), Our Modern Maidens (1929) and Our Blushing Brides (1930). ~ Hal Erickson, Rovi
Critic Reviews for Our Dancing Daughters
All Critics (3) | Top Critics (1) | Fresh (2) | Rotten (1)
[Our Dancing Daughters] is sumptuously mounted, gets plenty of playing from three girls and is sufficiently physically teasing.
For some time past I have been nourishing the secret hope that the jazz-mad, gin-soaked younger generation had vanished from the screen. I communicated my thoughts to no one, as I didn't want to trifle with my luck. However, it's all over now.
Audience Reviews for Our Dancing Daughters
The movie that launched Joan Crawford's career, and which so nicely captured some of the spirit of the flappers in the late 1920's. The scenes of her cutting loose with the Charleston amidst art deco furnishings are certainly the highlight. The plot itself is a pretty thin morality tale. Crawford and Anita Page pursue the same newly minted millionaire, who confuses who is "the pure one" and of course gets it wrong. Perhaps it's understandable, since there is a lot of dancing, legs, and playful kissing of guy friends to go around. There is an undercurrent of the double standard common for the time (how interesting this was made in the same year Woolf gave her 'A Room of One's Own' speeches); Dorothy Sebastian plays another character who must live down her past, and convince her husband to forgive her for it. The movie is silent and not in the greatest shape anymore, but that might have added a little to its charm. It's also interesting to see the short hairstyles, cloche hats, and the dialog: Offering a drink: "Li'l hot baby want a cool li'l sip?" After a big kiss: "What a service station *you* turned out to be!" By the shoreline, to a pretty song; ah youth: "It's such a pleasant thing - just to be alive!" "You want to taste all of life - don't you?" "Yes - all! I want to hold out my hands and catch it - like the sunlight."
Antonius Block
Super Reviewer
Our Dancing Daughters, from MGM in 1928 is a delightful silent screen gem starring the great Joan Crawford. Joan Crawford plays Diana whom is the life of the party and the it of the young flappers. Diana meets a wealthy young man named Ben whom instantly gets her attention. The only problem is that one of her friends named Ann (Anita Page) also likes him and wants to land a wealthy man which Ben flips the bill. Both ladies battle for the love and attention from Ben....watch the classic which has many great dance numbers with Joan Crawford and to find out if either lady wins him over.
Mason Williams
Super Reviewer
Our Dancing Daughters Quotes
There are no approved quotes yet for this movie.